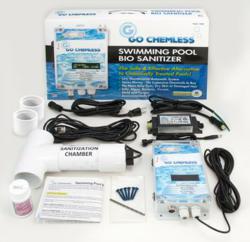 Pool owners are growing increasingly disenchanted with being exposed to toxic chemicals
Fort Lauderdale, FL (PRWEB) November 22, 2012
Go Chemless Inc., manufacturers of eco-friendly residential swimming pool bio sanitizers, was selected again as "Best in Show" for the second time at the Fort Lauderdale Home Design and Remodeling Show held in Fort Lauderdale, Florida at the Fort Lauderdale Convention Center.
With over 800 exhibitors, the Home Design and Remodeling Show draws crowds in excess of 70,000 home owners, looking for ideas on how to spruce up their home. The exhibitors range from fine home furniture, accessories, remodeling, interior design, kitchens and baths, appliances, home theaters, home improvements, pools and spas, patios, landscaping, and an array of products and services for the interior and exterior of the home... all under one roof.
At the November 2012 Home Design and Remodeling Show, Go Chemless was recognized as "Best in Show" for innovative swimming pool technology for safe swimming pool sanitization. Go Chemless' co-founder and chief engineer Michael Self said, "We are honored and thrilled to achieve this recognition for our leading edge technology for the second time in a row." Mr. Self went on to say, "At this year's event, we conducted three public lectures on the keys to healthy and safe swimming pool to standing room only audience. We covered topics on pool circulation, filtration and sanitization. The reception we had at this show was nothing short of spectacular. It's clear to me that pool owners are growing increasingly disenchanted with being exposed to toxic chemicals such as chlorine, acids and salt water chlorination."
Self went on to say "What I'm truly concerned about is the number of homeowners who believe that a 'salt water pool' does not contain chlorine, when in fact, it usually has higher concentrations of chlorine than manually service pools! People with whom I met and educated are shocked to find out that they were still swimming in a chemical soup of toxic chemicals. Pool owners want eco-friendly solutions for their pools, not chemicals, we have the solution for them."
The Go Chemless Swimming Pool Bio Sanitizer is sold in pool stores and through pool maintenance companies. If your local pool store does not carry the Go Chemless Swimming Pool Bio Sanitizer, contact the company directly to find the closest dealer in your area.
About Go Chemless:
Go Chemless' mission is to bring to market quality, technological solutions that reduce exposure to harmful chemicals in swimming pools. Go Chemless has pioneered the use of multiple electrode base elements and measured multi-electrode electrolysis to achieve the pool industry's first bio sanitizer with "set it and forget it" intelligence. This combination of revolutionary green technology and leading edge computing is the first of its kind to battle viruses, fungi, bacteria and algae found in all pools, while reducing or eliminating the use of harmful and dangerous chemicals.
For company contact information and partnership opportunities, visit http://www.GoChemless.com
For More information:
Liz Kimbers
Liz.Kimbers(at)GoChemless(dot)com
855-424-3653 Toll-Free