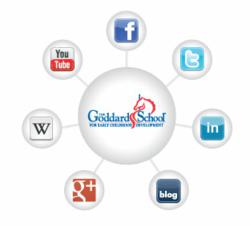 King of Prussia, PA (PRWEB) March 05, 2012
Throughout 2011, Goddard Systems, Inc. (GSI), continued to establish itself as a "Best in Class" Social Media leader in the childcare industry by launching several integrated Social Media campaigns, including Goddard Community Games Virtual Tour 2011 and 2012, Goddard School Block Party Campaign and Application, The Goddard Cares Project, and Choose for Charity campaign. For its efforts, GSI was officially recognized with a Social Media Star Award from the Philadelphia Business Journal.
"We were thrilled to be recognized as a Social Media leader by the Philadelphia Business Journal," said Ashley Betzendahl, Social Web Communications Manager of Goddard Systems, Inc. "This award recognizes us in our beginning stages. As our campaigns continue to mature, we hope to continue to build strong connections with our parents and fans."
The Philadelphia Business Journal's Social Media Stars Awards, created in 2011, celebrates the achievements of individuals and businesses in the greater Philadelphia area in the world of social networking.
The Philadelphia Business Journal notes that this award is not simply for having the most followers or likes. In contrast, this award is for the true stars, which are the ones that have built an engaged audience and can show results on their efforts. All nominees must be based in the greater Philadelphia area (Philadelphia, Bucks, Montgomery, Chester, Delaware, Camden, Burlington and Gloucester Counties), but national campaigns originating from the area can be included.
To visit Goddard Systems, Inc.'s Facebook Fan Page, visit Facebook.com/goddardschool. To visit Goddard Systems, Inc.'s Twitter Page, visit twitter.com/goddardschool.
About Goddard Systems, Inc.
Recently named No. 1 Childcare Franchise in the United States by Entrepreneur magazine, for the eleventh consecutive year (January 2012) and one of the Top 200 Franchise Systems (in worldwide sales), by Franchise Times, for the fifth consecutive year (October 2011); Goddard Systems, Inc. (GSI) is expanding The Goddard School® network throughout the United States. Headquartered in King of Prussia, Pennsylvania, GSI currently licenses 380-plus franchised schools with more than 45,000 students in 35 states. With a successful system in place and dedicated franchisees, GSI is the acknowledged leader in franchised childcare and a premier childcare provider in the United States. To learn more, visit its Web site for more information.
# # #