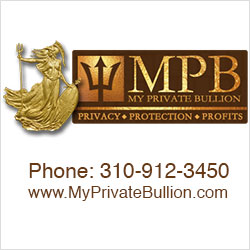 People who invest in physical gold can hold their gold where they want to, without management or maintenance fees.
Culver City, CA (PRWEB) March 18, 2013
My Private Bullion (MPB) announces the debut of their "Golden Total Retirement Center" which they believe offers the most innovative and comprehensive precious metal retirement options in the industry. The recently expanded and improved servicing center can not only protect individual retirement plans with physical precious metals, but now offers precious metal protection to entire company retirement plans as well. Whole company services, with respect to physical precious metals had been previously unavailable to all business – small, medium, and large. "This is a service that's unique and has been innovated by MPB. It's the cutting edge and unlike any other retirement plan service in the country, as far as we know," says Alex Viera, Managing Director of MPB.
Traditionally, the typical Gold company, or Precious Metals firm that works with IRA's only dealt with individual persons and accounts, such as putting physical gold into Traditional IRA's or ROTH IRA's. In addition to those bread and butter services, My Private Bullion is able to protect accounts for entire companies. This includes SEP IRA's, SIMPLE IRA's, and 401-(K) plans.
Historically speaking, small and mid-sized businesses were unable to offer their employees physical precious metal as an investment choice for their company sponsored retirement plan. MPB enables businesses to have physical gold, silver, platinum and palladium as an option, and can also handle a client company that wants to convert their retirement holdings completely over to physical precious metals
According to Tom Kelly, the retirement plan specialist at My Private Bullion, "Working with entire company retirement plans is a new and very cutting edge service that, as far as we know, no other precious metals company in the industry can offer. Business owners are now able to say to their employees 'yes you can have physical precious metal in your 401K or IRA if you choose to.' That's obviously a lot different than the all too familiar 'no'. In some cases the business owners we have worked with have gone out of their way to thank us because this service enables them to be a real hero in the eyes of their employees."
In addition to these new and innovative services, My Private Bullion continues with its tradition of offering all clients, individual and business, with free shipping on all retirement plan precious metal orders.
"The precious metals industry is suffering from stagnation, especially in the area of Retirement Account servicing," says Alex Viera. He adds, "for over the past dozen years the industry as a whole has been resting on its laurels and not working at all on servicing the needs of today's retirement plan client. Practically all of the precious metal companies out there were satisfied to employ a 'business as usual' approach to their clients. We prefer to innovate and continue to prove to our clients how different and better MPB really is. This is another chance to prove it."
To learn more about retirement plan investing in gold and other precious metals, please visit http://www.myprivatebullion.com or call 310-912-3450.
ABOUT MY PRIVATE BULLION
At My Private Bullion, individual service, asset protection strategies and wealth management solutions are the foundation of our business. The company also belives that today's investors need a protection plan and a profitability plan that the rest of the precious metals industry is simply not providing.
My Private Bullion's specialty is finding specific coins for buyers that will increase over time, well above bullion coins of similar prices. The company's services include individuals, IRA's, 401K's and entire company retirement plans. MPB's commitment is to learn an investor's individual goals and objectives, and tailor personalized solutions to meet their specific needs.