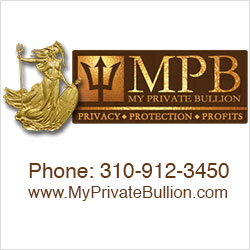 My Private Bullion believes that investing in gold offers many benefits when compared to investing in stocks, bonds and mutual funds.
(PRWEB) March 25, 2013
My Private Bullion, a boutique full service precious metals sales and investment consulting firm, is echoing the recent claim by legendary trader Jim Sinclair that there may not be a better time than right now to invest in gold at least through 2017.
Sinclair, who has been actively trading the markets for over 50 years, recently said in an interview with King World News that "We already set the low in gold. We are now on our way to $3,500. The opinions that gold and silver are going significantly lower are not correct. There have never been more signs of a bottom in a market than you see presently."
Sinclair went on to say during that same interview that "There has never been a time where there has been such a degree of bearishness, and the greatest bearishness being into the gold shares themselves. Looking back in history, this must be the greatest opportunity that exists in this market between now and 2015 to 2017."
In early March, Sinclair went one step further when he released a subscriber alert in which he said "gold will trade to $4,990 in a coming bull run prior to settling into a role as currency for the beginning of the greatest economic expansion in history."
My Private Bullion believes that investing in gold offers many benefits when compared to investing in stocks, bonds and mutual funds.
Once they've invested in gold, some of the benefits buyers can experience over stock, bond and mutual fund investing include:

The buyer gets to maintain physical possession of the gold coins
The buyer gets to avoid costly transaction fees that commonly accompany stock market and other types of investing
Buyers protect themselves against the risks of investing solely in stocks, bonds and mutual funds
Additional benefits of investing in physical gold include:
Safety over time
Protection against stock volatility
Protection against bank failures and monetary system collapses
Private transaction with no management fees
Little to no reporting requirements
Portable investment
Always will have intrinsic value
Easy to transfer through inheritance
Fast access to holdings
Liquidation possible practically anywhere in the world
Can be used to make purchases if necessary
Plus, physical gold prices have trended upward for the past 10 years and experts expect them to continue rising – with many experts besides Sinclair now believing gold could reach as much as $5,000 or even $10,000 an ounce at some point.
The value of physical gold has also remained steady over time - for example, gold 100 years ago would have bought the same amount of goods and services as gold today ... this makes gold a good safe haven against inflation and financial crises.
"The truth is since the US went off the Gold Standard in 1971, gold has consistently outperformed stock market, real estate and currency investing," said Alex Viera of My Private Bullion. "And since possession of physical gold doesn't require management fees it is an even more attractive investment option for most investors."
To learn more about investing in gold and other precious metals, please visit http://www.MyPrivateBullion.com or call 310-912-3450.
ABOUT MY PRIVATE BULLION
At My Private Bullion, individual service, asset protection strategies and wealth management solutions are the foundation of the business. The company also believes that today's investors need a protection plan and a profitability plan that the rest of the precious metals industry is simply not providing.
My Private Bullion's specialty is finding specific coins for buyers that will increase in value over time, well above bullion coins of similar prices. The company's services include individuals, IRA's, 401K's and entire company retirement plans as well. My Private Bullion's commitment is to learn an investor's individual goals and objectives, and tailor personalized solutions to meet their specific needs.