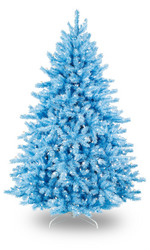 South San Francisco, CA (PRWEB) November 30, 2008
Treetopia has been known for developing unique artificial Christmas trees in a broad range of colors for people who want to add some flair to their holiday celebrations. This holiday season is no different. Once again, Treetopia is offering colorful artificial Christmas trees in must-haves colors for home decorating trendsetters. For the 2008 Christmas season, Treetopia is introducing some new artificial Christmas trees in this seasons top colors:
Gold Christmas trees and Silver Christmas trees: Gold and silver continue to be popular decorating colors for Christmas that have traditionally been used as accent colors. Rather than simply adding silver or gold tinsel to a tree, Treetopia takes the look one step further by offering entire Christmas trees in those colors. The new Toasted Champagne Gold Christmas tree is its hottest color of the season. The elegant look for the light gold branches is a beautiful complement for any elegant style. The Treetopia Stardust Silver Christmas tree is a silver tinsel tree that can provide a retro 70's type look if paired with bright flourescent decorations or a modern look when part of a monochromatic theme. Treetopia's decorators love the look of the silver tinsel tree with all black or red ornaments.
Blue Christmas trees: Blue continues to be a popular home decorating color for its ability to create a tranquil, peaceful mood. The new Smurftastic Blue Christmas tree in Treetopia's line-up has shown early signs of being one of the more popular new colors for the 2008 season. For those who don't want a tree that suggests allegiance to UNC or UCLA, Treetopia also offers the Hanukkah Bush which is a white Christmas tree with royal blue LED Christmas lights.
Red Christmas trees: The red for this season is a deep, spicy rich red which is exemplified in the brand new Cranberry Crush red Christmas tree. This deep red artificial Christmas tree has almost a purplish tinge to it when the tree is lit. The Cranberry Crush Christmas tree works well as an accent in rooms with a neutral pallette. For those interested in a brighter red with more pop, Treetopia also offers the Candy Apple Red artificial Christmas tree. This tree is a bright red tinsel Christmas tree that would match well with Santa's suit or Rudolph's nose.
About Treetopia:
Treetopia.com is an online store featuring a diverse selection of artificial Christmas trees. Featuring traditional artificial Christmas trees, white artificial Christmas trees, black artificial Christmas trees, pink artificial Christmas trees, silver artificial Christmas trees, blue artificial Christmas trees, red artificial Christmas trees, upside-down artificial Christmas trees, lighted palm trees, trimmings, tree skirts and decorations, Treetopia has something for everyone. Treetopia products are sold online exclusively through http://www.treetopia.com.
###