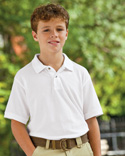 Golf events are fun and a great activity for families and people of all ages. - Donna Jones, Crooked Brook
Augusta, GA (PRWEB) April 10, 2013
Augusta National Golf Club, the hallowed ground of United States golf, will host the finals of a nationwide Drive, Chip & Putt Championship for boys and girls between the ages of seven and 15.
The new skills competition that will conclude at the permanent home of the Masters is intended to foster an interest in golf among kids and will be held on the Sunday before the Masters and be broadcast on Golf Channel.
In honor of this exciting event and to support and promote the sport of golf, Crooked Brook is offering a 15% discount on all youth-size custom golf shirts from 4/10 to 4/17/2013 with the promo code 4172013.
"Imagine the incredible excitement these 88 finalists (in four age categories) will experience as they come to the site of the Masters to compete," said Augusta National chairman Billy Payne. "It is our collective hope and belief that this quest to make it to Augusta National will become the dream of kids all over the country and their participation will inspire others to make the effort and...discover this wonderful, wonderful game."
For more information or to register, visit http://www.drivechipandputt.com.
About Golf
While the modern game of golf originated in 15th century Scotland, the game's ancient origins are unclear and much debated. Some historians trace the sport back to the Roman game of paganica, in which participants used a bent stick to hit a stuffed leather ball. One theory asserts that paganica spread throughout Europe as the Romans conquered most of the continent, during the first century BC, and eventually evolved into the modern game. Players score by driving a small white plastic or wooden ball into the opposing team's goal using a long-handled mallet.
Polo shirts became so popular on golf courses; people started calling them golf shirts. Although the words "golf shirts" and "polo shirts" are used interchangeably, and the term "polo shirts" is more popular, some people prefer the term golf shirts.
Golf shirts offer the professionalism of a dress shirt and the comfort of a t-shirt. When customized with an embroidered logo or patch and given as gifts or giveaways, they are called promotional golf shirts.
Promotional golf shirts are one of the most popular promotional apparel items because they make great corporate gifts and are an excellent way to build brand recognition and promote a business.
Almost every major apparel brand offers a line of golf shirts. Some high-end brands offer golf shirts in high-performance fabrics, knitted silk or other fabrics.
Men's golf shirts are now available in what were once considered women's colors and women's golf shirts are no longer smaller versions of men's, with silhouettes made specifically for a woman's figure.
Some of the most recognized brands of golf apparel are: Ashworth, Nike, Adidas, Ping, Greg Norman, TaylorMade, Titleist, Callaway and Arnold Palmer.
About Crooked Brook
Crooked Brook is a unit of the atelier division of an art studio that offers full service apparel design, pattern making, sample making, private-label small lot production, direct-to garment printing and embroidery. Since 1989, they've built a strong reputation of providing top-notch apparel designs, patterns, fit and production samples for many brand name catalogs and retailers, as well as wardrobe and costumes for movies, television and theater.
All Crooked Brook branded garments and accessories are proudly made to order in the U.S.A.
Although the most popular method of printing t-shirts is screen printing, Crooked Brook t-shirts are printed using Direct To Garment Printing (DTG) which is the process of using inkjet printers to print an image directly onto t-shirts without the use of screens like with screen printing, which requires a lot of setup e.g., creating screens for each color. In addition, DTG printing uses eco-friendly, water soluble ink, unlike some screen printing methods that layer Plastisol (a suspension of PVC particles in a plasticizer) on top of the t-shirt. The only requirement for DTG printing is for the image to be high resolution, resulting in photograph quality printing with no setup fee or minimums for custom t-shirts.
Crooked Brook ships worldwide. Hours of operations are 7:00 a.m. to 7:00 p.m. EST, seven days a week. Reach them at (315) 733-1992 to learn more.