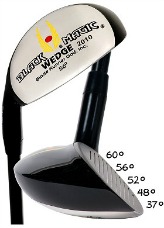 Tips For Acquiring Your Short Game Golf Set
Nationwide (PRWEB) March 13, 2013
It is easy to buy an entire golf set from one manufacturer, but many players choose to piecemeal their golf set because they are looking for the best clubs in golf for their game. In many golfers' bags today, the most common thing to see is drivers and woods from one manufacturer and irons, wedges and putters from another.
"If you are inspired to play the game and wish to make it a routine hobby, you will find that there will be a slight learning curve. The learning curve is applicable to both the game and the purchasing of the right clubs for the game. What you're sure to find is that a 'one-size-fits-all' scenario isn't always the best route to start playing this game. In order to get the best golf set for the novice player, a smart option before investing time and money into a golf set is to get professional advice on what clubs are essential to use and buy. Then you can research different manufacturers that offer quality golf wedges, woods or irons, to find the best deals.
Blade Runner Golf is a leading provider of hybrid golf wedges and putters for the short game, where approximately 70 percent of the game is played. Their website features many short videos on the short game that can help any novice player learn about the basics of the game. Expert players can benefit from the same videos by revisiting the fundamentals of the game.
Extensive research has uncovered a lot of information on how many golfers approach their swing. Power tends to be the biggest misconception; many players think that putting as much "ump" as possible is necessary for practically every swing. Most shots around the green actually require a light touch with a large amount of finesse rather than power that puts players in control of their short game.
Blade Runner Golf provides real-world solutions for the short game to golf enthusiasts, offering its Black Magic clubs on their website.
About
Blade Runner Golf, Inc. is a company that is very serious about the notion that a golfer's short game can make all the difference in his or her final score—and that players can take their short game to the next level if they only have the right club from which to choose. Black Magic's hybrid wedges Conforms to USGA Rules, but also helps golf enthusiasts find new precision and power as they make their way onto the putting green. Black Magic Wedge can be reached on the web at http://www.blackmagicwedge.com.
Contact:
Black Magic Wedge
2519 McMullen Booth Rd
Suite 510-129
Clearwater, FL 33761
Toll Free Phone: 877-799-6099
sales(at)blackmagicwedge.com