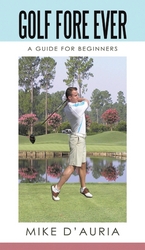 The main reason I decided to create this manual is to provide some helpful information to the novice or newcomer that I wish I had available to me when I first started playing golf
Sayreville, NJ (Vocus) November 23, 2010
Golf Fore Ever: A Guide for Beginners (published by iUniverse) author, Mike D'Auria announces the publication of his new book aimed to provide new golfers with a proper introduction to play Golf "The Right Way."
"The main reason I decided to create this manual is to provide some helpful information to the novice or newcomer that I wish I had available to me when I first started playing golf," says D'Auria. Golf Fore Ever provides invaluable information on the game and guides the new golfer through every step of getting started and learning to play golf, "The Right Way."
As so many golfers venture onto the golf course without a clue as to the rules of golf or golf etiquette, notes D'Auria, his breakdown of "The Right Way" provides the beginner with all of the important and integral parts of this incredible sport. D'Auria has included step-by-step instructions for the new or beginning golfer, providing the novice with all he needs to know about how to start playing golf, including:

Purchasing golf clubs and necessary ancillary equipment
Options for learning how to play
How to hold the golf club and address the ball
Scheduling the first tee time
Playing the first golf round and what to expect
Learning proper golf etiquette
Golf Fore Ever also provides recommendations of excellent travel and golf resort destinations and informs the new golfer about the collateral benefits of golf derived from the author's personal experiences. Also included is a Glossary of Golf Terms and Definitions, a must for the new golfer. D'Auria distills his 30-plus years of golf experience into an informative guide for beginners, helping the ingénue to improve his skills and to take enjoyment in the sport's challenges.
"Golf can be a roller-coaster ride of emotions," says D'Auria, "from euphoria when you hit a career shot to a tight pin placement, to complete dismay when your ball finds the water or goes out of bounds on the very next hole. It is up to you to determine whether you will enjoy the ride and not let the game get the better of you."
About the Author
After severely tearing a hamstring while playing baseball, a new door opened for Mike D'Auria when he was invited to hit some balls at a driving range. Thinking golf would be a piece of cake, he quickly learned there was much more to the game than simply hitting the ball. Hitting the ball was only the first step to the enjoyment and challenge that can be derived by playing this incredible sport. D'Auria has been playing the sport of golf for over 30 years now and he wants to impart this knowledge to the new golfer. Golf Fore Ever is his first book. For more information, visit guideforbeginninggolfers.com.
iUniverse is the leading book marketing, editorial services and supported self-publishing company. For more information, visit iuniverse.com.
# # #