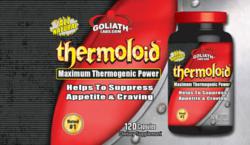 Kingston, New York (PRWEB) July 30, 2012
Goliath Labs new dietary supplement, Thermoloid, is a scientifically engineered thermogenic supplement that is designed to increase fat burning and weight loss. Its advanced matrix of ingredients approaches the science of fat burning through multiple pathways such as increased metabolic rate, greater appetite control, enhanced insulin sensitivity, and decreased fat/carbohydrate absorption.
Whether using as part of a weight loss regimen or taken prior to weight training workouts, sporting events, or intense cardiovascular activity, Goliath Labs new thermogenic supplement, Thermoloid, is an effective weight loss supplement. In addition to contributing to weight loss, Thermoloid helps increase energy levels to optimize both performance and results for athletes, bodybuilders and those engaged in a weight loss regimen.
According to Goliath Labs Chief Executive Officer, Bart Panessa, "Thermogenic supplements been have been proven by science and clearly work. When combined with attention to dieting, adequate rest and increased cardiovascular activity, our customers report Thermolid being effective."
Thermogenesis is the process by which the body uses energy to produce heat. Diet-induced thermogenesis is when a percentage of dietary calories are converted to heat rather than stored as fat. A thermogenic weight loss supplement is a dietary supplement that works to increase the body temperature leading to the increase of calories being burned. Thermogenic supplements are designed to cause the body to burn more calories without the necessity of increasing activity level. Combined with an increase in cardiovascular activity and proper nutrition, thermogenic supplements can help to both increase levels of energy and accelerate the burning of fat leading to losing weight.
The human body uses quite a bit of energy in heat production and optimal body temperature. Incremental increases in body temperature results in an increase of calorie expenditures. Thermogenic supplements are formulated to achieve these increases in body temperature and can also contribute to having a mild appetite suppressing effect. When the body requires energy to effectively heat the body, it will reduce the bodies "hunger" mechanisms given that searching for caloric intake requires additional energy.
Thermogenic supplements have been commonplace for the bodybuilding community, but recently are being marketed and sold in the multi-billion dollar weight-loss supplement industry. Goliath Labs does not advertise Thermoloid in this manner, but as an adjunct to eating healthy, paying attention to a balanced diet and exercise. When part of a total diet regimen, repeat consumers of Thermoloid have reported its beneficial effects. Although Thermoloid includes small amounts of Green Tea Extract and Caffeine, Goliath Labs has included, as their primary compounds, non-stimulant thermogenic ingredients in their formula including Chromium, SuperCitrimax and Garcinea Cambogia.
About Nutraloid Labs Inc.
Nutraloid Labs Inc., owner of Goliath Labs, Colossal Labs and Herberex Inc., is a New York State based Sports Nutrition, Home Gym Equipment and Male Enhancement Supplement Company. They offer for wholesale, retail and private label their proprietary blend dietary supplements. All Nutraloid Labs Inc. dietary supplements are manufactured under a strict GMP certified manufacturing process using high quality naturopathic ingredients. In addition to being manufactured in GMP certified facilities and made in the USA, all Nutraloid Labs Inc. products are compliant with dietary supplement regulations set forth by the United States Food and Drug Administration.
Contact:
Bart Panessa
Chief Executive Officer
Nutraloid Labs Inc.
772-291-7510
Website: http://www.GoliathLabs.com