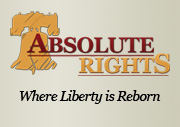 Absolute Rights has been devoted to helping people become better prepared and ready to face any disaster.
Austin, TX (PRWEB) December 05, 2012
Evacuating from a hurricane, disease epidemic, or violent attack would almost certainly be a life or death situation, said a recent Absolute Rights article. If people had the ability to predict and react to disasters with a fully prepared and designed plan, the article said they would be able to beat the rush of vehicles that flood the streets, and escape the affected area efficiently and securely.
Absolute Rights has produced a program that will help people devise their own personal evacuation plans, and it has been re-released to better prepare those who need this information the most. Gone Before Gridlock is an exclusive system that was created by ex-US Army Search and Rescue expert Dave Scott. The article said his experiences have helped him develop the technique best-suited for anyone looking to better their emergency plans.
Gone Before Gridlock is Absolute Rights' full scale evacuation program, which assists people in designing and perfecting their evacuation strategies to best avoid the crowds and get out of danger before the masses. Recent history has taught Americans that anything, from a major natural disaster to an unruly crowd of rioters, can cause serious problems and deem evacuation absolutely necessary, said the article.
For this reason, Absolute Rights has put together an informational guide that will make any evacuation attempt easier and safer. The article said the system helps people create their own early warning systems to help them stay aware of their options when a disaster strikes.
Housed on an exclusive members-only website, Gone Before Gridlock features a gas calculator, a mapping program, and other valuable tools and resources. Members of the program are able to log on anytime, and view the training modules, resources, and vital information from any online connected device. The information is organized into easily-digestible modules, each one covering the life-saving information needed before a crisis strikes.
Gone Before Gridlock describes the five phases of any disaster, and explains to users how the windows of opportunity to evacuate fit within the phases. There are four main steps to total preparation of an evacuation plan, and Gone Before Gridlock covers them all, plus a fifth step that is rarely talked about, said the article.
Absolute Rights is allowing people to try Gone Before Gridlock for an unconditional 60 days, within which they may get their money refunded in full should they find it unsatisfactory.
Now is the time to absorb this information and create a well-designed plan for evacuating, and Absolute Rights wants to make sure everyone has access to Gone Before Gridlock. Evacuating doesn't have to be dangerous, but without the help of a program like Gone Before Gridlock, the article said the odds are stacked.