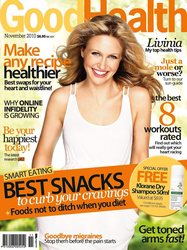 a party from start to finish.
(Vocus) October 29, 2010
As the title implies, Good Health Magazine is about exactly that: exercise and diet to stay fit. But health is also about happiness, and the magazine's November issue offers four salient points to improve well-being by "infecting" your friends.
From mingling with others to cheering up those who are sad, smiling to everyone or modulating those down moments to keep from passing negativity to your children, these strategies work hand-in-hand to present a positive force to loved ones and the world.
Good Health is dedicated to providing inspirational and positive solutions to the challenges of staying physically and emotionally fit at every stage of life. It is available via subscription at magshop.com.au, the source for discount magazine subscription, books, gift ideas and much more.
The Get Fit Checklist
Where to start? That's the question facing the motivated reader who wants to improve their physical and emotional well-being. Good Health offers eight workout strategies, assessing the effect of each on weight loss, muscle building/toning and cardiovascular benefits.
Some of these options will be familiar, such as boxing, weight training and the stationary bike. Others are newer and/or more exotic: the vibe plate is exactly what it sounds like, a stationary work out on a platform that vibrates beneath you, while a group exercise boot camp involves lots of running and body-weight resistance exercise.
For the more rhythmically inclined, this year's fitness craze is the dancercise class Zumba. Set to the seductive rhythms of merengue, salsa and samba and using those dance steps in a non-stop blur of motion, the author Beverley Hadgraft rightly calls it "a party from start to finish."
Rounding out the options are the familiar Pilates program and circuit training, a good all-over workout that's recommended for those who enjoy getting fit in groups. Elsewhere in the issue, Hadgraft espouses the benefits of ocean swimming as an exercise regimen.
Hot-Button Issues
For the migraine sufferers among us, Good Health offers tested strategies for heading off an attack before it starts. A very different kind of hurt, infidelity is on the rise due to a website that encourages cheating and the false sense of intimacy the internet can foster. Warning signs and what to do about them are central tools in the battle to stay faithful.
Australia is a leader in combating the ever-present threat of skin cancer. In a special Good Health update, the editors provide solutions for protecting skin that go well beyond creams and ointments to embrace dietary tricks—green tea, cooked tomatoes and a combination of caffeine and exercise are proven deterrents—and even suggest sunscreen types based on specific outdoor activities
Things to Consider
But the coverage doesn't stop there. Consult the November issue of Good Health for tips on toned arms by Christmas, the secret of good sleep, steps to healthy teeth and innovative forms of conflict resolution.
Celebrity animal lovers tell their stories, share their love and offer advice: jewellery designer Nikki Phillips, Olympic swimmer Libby Trickett, "Bondi Vet" star Dr. Chris Brown and TV vet Dr. Katrina Warren tell how their lives have improved since they've gone to the dogs.
# # #