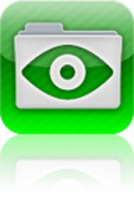 A high degree of file security is extremely important to our business and government users, considering the potential loss or theft of small devices such as iPhones and iPads.
Moscow, Russia (PRWEB) April 18, 2011
GoodReader, the document reader which achieved the rank of #2 best-selling iPad app in 2010, now leverages the iOS's ability to encrypt individual files to ensure data is secure even if an iPhone or iPad is lost or stolen. With this new security measure in place, users are provided with convenient, effective, and high-quality data security with GoodReader automatically encrypting files the user has selected to secure.
Thanks to Apple's hardware and software support for file encryption, GoodReader is able to offer a strong level of data security, without having a user worrying about implementation details. The only step users must take is to indicate which files and folders are to be protected, and GoodReader will make sure that iOS transparently encrypts those files and makes them inaccessible as soon as a user locks a device with a passcode. If device gets lost or stolen, encrypted files will be extremely difficult to crack – short of the attacker guessing the passcode.
A key advantage of GoodReader's integration with the iOS encryption is that protected and unprotected files are opened at the same speed. The encryption/decryption process is handled by special hardware built-in to each modern iOS device, speeding up the process that it would otherwise take to open an encrypted file.
"A high degree of file security is extremely important to our business and government users, considering the potential loss or theft of small devices such as iPhones and iPads," said Yuri Selukoff, the developer of GoodReader. "By integrating with the built-in iOS encryption technology, GoodReader offers a secure-yet-simple solution – keeping files completely safe without creating another annoying and time-consuming step or process each and every time a user needs to access a protected file. This new feature blends perfectly with our recent addition of secure SFTP file transfer and synchronization, offering enterprise users a high level of confidence in their data safety."
As with every GoodReader update, the latest version includes other significant improvements and new features, most notable of which is the ability to "flatten" PDF annotations to embed annotations into the main PDF page body, making them visible in all PDF-capable apps (including iPhone/iPad's standard Mail and Safari apps) regardless of those apps' inability to display PDF annotations.
Since its release, the iPad version of GoodReader has achieved #1 in sales in the U.S., Canada, France, Germany, Spain and many others. The iPhone and iPad versions of GoodReader are available for only $4.99 in the iTunes App Store.
About GoodReader
GoodReader is known as the top document reader for viewing, navigating and annotating large PDF documents on an iPhone and iPad, and easy viewing of other file types. Besides its PDF annotating and text search capability, other key GoodReader features are active hyperlinks, which enable users to more easily navigate within the document or launch a linked document or website, and PDF Reflow. GoodReader also offers powerful file transfer and management capabilities, and is often referred to by many as "a missing file system for the iOS." GoodReader has also set the standard for iOS document readers in the enterprise, offering a high level of document security and synchronization with remote servers. For more information, visit http://www.goodreader.net.
###