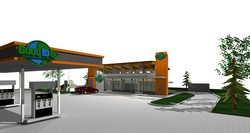 "Providing ethanol and other renewable fuels is a prime product feature of 'Good to Go' ECOnvenience Centers," said President Steve Nikolas
Milwaukee (PRWEB) January 12, 2010
The surge in 'Green-built' business opportunities has special impact for owners of ecologically designed 'Good to Go' convenience fuel and shopping outlets, according to Steve Nikolas, President of Good to Go ECOnvenience Centers.
"Recognizing the accelerating public demand for conservation and the preservation of the environment, Uncle Sam has already thrown his stars-and-striped hat into the mix to support higher profit margins for 'Green-built' business enterprises and to achieve their energy mandates," stated Nikolas who heads a Wisconsin-based firm that is developing the first 24/7 centers for environmentally-conscious consumers.
More than 150 'Good to Go' ECOnvenience Centers are targeted for future development; all built to United States Green Building Council's Leadership in Energy and Environmental Design (LEED) standards.
"Beyond the intrinsic environmental values are multiple options for increasing ownership profit margins, over and above conventional outlets," he said. "Those advantages are due to specialized government grants and funding, already in place to encourage conservation of resources intrinsic to 'Good to Go' construction and operations."
Among existing programs:

A U. S. Small Business Association (SBA) 504 Loan Program offering special funding for renewable, alternative energy and sustainable design features, applicable to new 'Green' building typical of ECOnvenience construction, including retro-fitted structures.
Qualified applicants through SBA 504 are eligible for a 30 percent Federal Tax Credit or Grant for renewable energy project participation, applicable towards a down payment or equity participation in center ownership.
"When applied to 'Good to Go' ownership, up to 90 percent of total purchase cost translates into only 10 percent down payments by qualified owner-operators," Nikolas said.
The Energy Independence and Security Act of 2007 provides tax credits for the blending of ethanol fuel, which, at a below-average rate of 150,000 gallons per month, could mean an annual tax credit of $384,750, according to an estimate of volume in high-traffic locations.
"Providing ethanol and other renewable fuels is a prime product feature of 'Good to Go' ECOnvenience Centers," noted Nikolas who cited additional federal tax credits for the cost of installing renewable fueling equipment, effective as of January 1, 2006, as well as on-site blender tax credits.
"The Energy Independence and Security Act of 2007 goes a step further, authorizing grants for infrastructure development for renewable fuel blends incorporating 10 to 85 percent ethanol, and the program extends to both technical and marketing assistance," he added.
Originally adopted to provide tax credits of up to 30 percent for equipment and installation, the 2007 revised act, through federal stimulus funding, upped that figures to 50 percent (not to exceed $50,000), obtainable through submission of three IRS forms.
Infrastructure credits for construction established by the U. S. Green Building Council for LEED certification include panelized construction with Green Roof control of water runoff, 100 percent LED energy-efficient lighting, use of pervious concrete and rain garden installations minimizing storm water runoff and recharging ground water at each Center site.
Even without tax credits, the unique environmental product-emphasis of 'Good to Go' ECOnvenience Centers offers a variety of renewable fuel alternatives that provide exceptional cost savings with a 24-hour automated merchandising system of 220 staples products, staffed by a single employee to increase operating profitability through lower overhead costs.
In addition, the Center car washing system, utilizing recycled water, consumes two gallons of new water per wash, compared to 50-150 gallons in standard facilities, with an annual cost savings of more than 2 million gallons of fresh water.
For detailed information, contact Larry Heck, VR Business Sales Mergers & Acquisitions, at 262-347-2083 or larryh(at)vrbizlakes(dot)com.
# # #