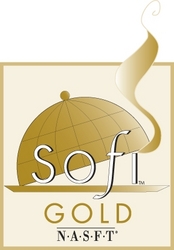 Boston, MA (PRWEB) July 15, 2008
Good Wives, an industry leader producing the finest hand-made hors d'oeuvres is proud to announce that the two items nominated for 2008 sofi™ Outstanding Frozen Savory and 2008 sofi™ Outstanding Perishable Foodservice have both won the Gold Awards. These products were judged by a panel of 400 members of the food service industry on Sunday, June 29 and Monday, June 30 at the 2008 Summer Fancy Foods Show in New York, and were announced as the winners in their categories on Monday night at the awards ceremony. The awards were handed out by world renowned chef Jacques Pepin.
The Mushroom Profiterole, winner of the 2008 sofi™ Outstanding Frozen Savory award, is one of Good Wives' classic best sellers. This mushroom-lovers treat fills a hand-cut pate a choux with a creamy, sherry-seasoned mushroom duxelle and provides textural interest by adding pieces of walnuts to the filling. When you combine this superior flavor with the Mushroom Profiterole's great eye appeal and convenient heat-and-serve preparation, it's no wonder that this product has remained on numerous menus nationwide. Not only does this product look good out of the oven, but the attractive packaging ensures that retailers can rest easy knowing that they have the attention of consumers with distinguishing taste.
The 2008 sofi™ Outstanding Perishable Food Product, Good Wives' Beef Wellington, is one of the initial offerings of Good Wives' new protein line. Rosettes of beef tenderloing, accented with a mushroom duxelle, all wrapped in a puff pastry combine to offer you a classic hors d'oeuvre that meets and excees the necessarily high and exacting standards of hotel banquet chefs and busy caterers. Available in foodservice packaging only, the Beef Wellington is packaged in 4 trays with 50 pieces each, making storage and preparation simple, which allows event staff to focus their attention where it matters most: keeping the customer happy with top of the line service.
For almost 30 years, Good Wives Hors D'oeuvres has blended the highest quality ingredients with award winning culinary creativity. We are honored by the NASFT judges' choice to award us as the Gold winner in both of these categories. For more information about our product line or for distribution inquiries, feel free to contact one of our sales representatives. You can also check out our website at http://www.goodwives.com or call (800) 521 - 8160 to speak with a member of our friendly customer service team.
For Marketing inquiries contact Innovative Foods Inc.
Joshua Lewis
(617) 719 - 3015
###