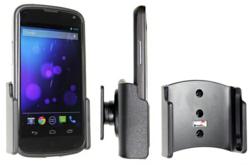 We are still testing, but we do plan to release holders that support Qi wireless charging in the near future.
Madison, WI (PRWEB) March 29, 2013
ProClip USA, a distributor of vehicle specific mounts and device specific holders for electronic handheld devices, has just released custom car phone holders for the Nexus 4 used with a Google Bumper case.
ProClip released its Nexus 4 car phone holders in January, but recently added more holders to their website. Initially, ProClip released Nexus 4 holders for phones that don't utilize any cases, covers or skins. They do offer adjustable holders that can accommodate a variety of different size cases, however, the Bumper case from Google is a popular case for the Nexus 4 and ProClip decided to make custom holders for it.
The Nexus 4 Bumper case is for sale on the Google Play Store. The case provides a layer of protection around the edge of the phone and on the glass back without adding a lot of extra bulk, which is part of the reason why the case is so popular.
ProClip now has three new holders that are designed specifically for the Nexus 4 with original Bumper case from Google. These three holders are only for use with the original Bumper case and have not been tested with other cases, such as the Poetic Borderline Bumper. ProClip released the same three holder designs for the Nexus 4 without a case and for the Nexus 4 with bumper. These are their most popular holders: tilt swivel holder, cigarette adapter charging holder and straight power cord charging holder.
Don Rankin, COO of ProClip USA says "The Nexus 4 is currently a top competitor in the Android market, so it's no surprise we saw the demand we did. If the demand exists, we strive to release holders for all new phones and mobile devices."
ProClip also notes the high demand they've had for Qi wireless charging holders, including one for the Nexus 4. So far, no holders have been released.
Rankin says, "This is a new and exciting thing for us. We are still testing, but we do plan to release holders that support Qi wireless charging in the near future."
About ProClip USA
ProClip USA, Inc. is the exclusive North American distributor of Brodit In-Vehicle Device Mounting Solutions and Accessories. The ProClip products are custom fit for virtually every vehicle model and handheld device available such as cell phones, smartphones, tablets, MP3 players, navigation systems, satellite radios, two-way radios and mobile computing. Their innovative, convenient, secure and easy-to-install mounting solutions provide a safer and more enjoyable driving experience.
ProClip USA company philosophy is to provide customers with a high quality product with a high level of customer service, the same level of quality they expect from the vehicles and devices they are already using. To learn more, visit http://www.proclipusa.com or email customerservice(at)proclipusa(dot)com.