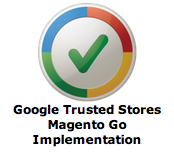 "It is unlikely that most merchants will be able to implement the required JavaScript on their site, much less be able to set up the order and cancellation feeds. That is why we made this a top priority," says Paul Byrne, Razoyo's president.
Dallas, TX (PRWEB) September 11, 2012
Now the Magento Go platform has an extension available to get the Google Trusted Stores Badge! Since this transition is so critical for online shopping and an integration hadn't been offered to Magento Go merchants, the team at Razoyo decided to develop one just in time for the holiday season. Find out how Razoyo can help merchants get the badge before the holiday shopping starts!
First of all, what does this transition from Google Product Search to product listing ads mean? Here is a quick FAQ article to help translate the lingo.
Online shoppers are probably already seeing a change in the Google Shopping experience with the addition of competitive price comparisons. The entire change is geared towards helping online shoppers identify stores that offer a great experience, meaning great customer service and on time shipping.
Secondly, the previously free Google Product Search that could be utilized through a simple data feed will now only be available through paid product listing ads (PLAs) managed through the AdWords account. These AdWords bids are product-based and no longer keyword-based.
"In order to be competitive, merchants need to navigate through a long list of technical steps. Without an extension for Magento Go, it is unlikely that most merchants will be able to implement the required JavaScript on their site, much less be able to set up the order and cancellation feeds. That is why we made this a top priority," says Paul Byrne, Razoyo's president. "We were lucky to have a team of Magento Go Developers who were able to create an affordable service to get Magento Go merchants started on the Google Trusted Stores program until Magento can offer an extension."
Razoyo's service covers all of the basic technical steps and more:
1) Registering a Google Merchant Center account and set up a product feed.
2) Registering a Google Trusted Stores Account
3) Registering an Adwords Account (if one doesn't exist)
4) Linking the Merchant Center and the Trusted Stores Accounts
5) Linking the Adwords and Merchant Center Accounts
6) Setting up PLA ads in the Adwords account
7) Incorporating Google's Trusted Store script on the web store
8) Setting up a feed to report shipping details to Google
9) Setting up a feed to report order cancellations to Google
Lastly, when these technical steps are finished, Google will test and validate the data passed during the monitoring period, a minimum of 28 days and 500 orders, of which at least 50% must be trackable, and inform the merchant of any integration issues. All this occurs "before" the merchant is awarded the coveted badge for customers to see on their website.
In addition to helping merchants get their websites set-up with a Google Trusted Stores Badge, the team at Razoyo will also assist merchants in making sure they don't lose any momentum when switching to the Magento Go extension version, once it becomes available, on Magento Connect.
Razoyo's Google Trusted Stores Code Implementation includes the following:
1) Assistance in setting up and configuring Google accounts and PLA ads
2) Implementing the script throughout the store
3) Setting up and maintaining the shipping details and cancellations data feeds
4) 90 days data feed hosting and maintenance (additional hosting time is available for $30 per 3-month period)
Customers are discount hungry and expect more from online retailers than ever before. Getting the Google Trusted Stores badge will give them the competitive edge during the holidays. Call the team at Razoyo and get started right away!