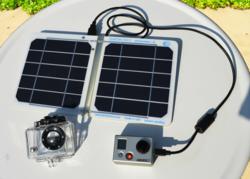 The most powerful USB solar charger that you will find in its class
Kahului, Maui, HI (PRWEB) September 26, 2012
Hawaiian Island Surf & Sport in Maui is a full-service ocean sports shop that specializing in anything and everything related to surfing, stand up paddleboarding (SUP), windsurfing, kiteboarding, skim boarding, bodyboarding, and snorkeling. Dennis O'Donnell, owner, provides his customers exceptional products and services. "Our customers live a very active outdoor life and require a reliable rugged solar charger like the sCharger-5 to provide instant reliable power for all their remote devices whenever they need it. And it is both water and weather resistant so it can go wherever they go".
Aside from their customer's normal phone and data communication needs, Dennis is very excited about the sCharger-5's capability to charge USB cameras like the extreme sports cameras from GoPro. Dennis said, "The sCharger-5 exceeded all of the solar charger needs of GoPro cameras, a perfect match for our customers who want to ensure their GoPro cameras have dependable power to capture and share collective experiences that makes their lives more fun".
"This is an exciting retail partnership," says Dean Sala, the Suntactics founder and CEO. "We're pleased to work with Dennis to meet the needs of his customers for our powerful highly reliable solar charger that is durable, compact, easy-to-use and hassle free." The Suntactics sCharger-5 is the most powerful USB solar charger that you will find in its class and customers agree:
"Incredibly fast for phones and iPod classic- I was amazed at how fast this charger is; it charged an iPod classic from the last bar to fully charged in about 90 minutes. It will also charge when it's surprisingly hazy; if you can see your shadow, even faintly, it will work."
"Great product- I bought this solar charger to take with me on motorcycle trips. Small and lightweight, it is easy to pack. It works great, just as advertised and I love it. On a sunny day it will charge an iPhone or iPad in the same amount of time it takes if plugged in to an electrical outlet."
About Hawaiian Island Surf & Sport
Hawaiian Island Surf & Sport has been serving Maui and Maui visitors for over 29 years. It is a full-service ocean sports shop specializing in anything and everything related to surfing, stand up paddle boarding (SUP), windsurfing, kite boarding, skim boarding, body boarding, and snorkeling. They also have an outstanding selection of accessories and services that complement their products. Hawaiian Island Surf & Sport is headquartered on Maui in the Hawaiian Islands.
About Suntactics
Suntactics focuses on portable solar and off grid solar energy products. Their current products are a unique 5-watt handheld solar charger called the sCharger-5 and powerful duel port 14-watt solar charger called the sCharger-12. These compact high power and durable solar power chargers meet the needs for a wide range of portable devices. The units are manufactured in the USA at Fastrak, a veteran owned contract manufacturer. Suntactics is headquartered in San Jose, Ca.