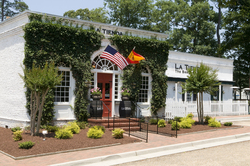 One of our employees said to me that he now can take his car to the auto shop to have work done and not be afraid that he will be taken advantage
Toano, VA (Vocus) November 2, 2010
LaTienda.com, the leading online supplier of imported Spanish foods in the USA, received the Outstanding Workplace Education Partnership Award on October 13, 2010, from the Virginia Association for Adult and Continuing Education (VAACE), at a special awards luncheon in Norfolk, VA. La Tienda was honored for providing English as a second language classes to their Spanish speaking employees, free of charge. The classes, which are offered during working hours, improve communication between co-workers, supervisors and outside vendors. Literacy for Life, who provides classes for adult literacy skills, nominated La Tienda for the award.
The purpose of the award is to recognize an employer's commitment to the educational advancement of its employees within a collaborative relationship with a public adult and/or continuing education agency. The criteria for selection included: outstanding contributions made within the Commonwealth of Virginia by a public or private employer and educational activities provided for its employees through programs organized in partnership with a public adult and continuing education agency. La Tienda uses their local resource in Williamsburg, VA, Literacy for Life, who teaches adults the literacy skills required for self-sufficiency, better health and meaningful participation in society.
La Tienda first began offering English classes to their predominantly Spanish-speaking workforce in 2006. Joan B. Peterson, Executive Director of Literacy for Life, said, "La Tienda has proven absolutely committed to providing its employees with high quality English instruction. As a result, four of the five learners in the class showed significant learning gains in 2009 (as defined by the Center for Educational Assessment at the University of Massachusetts Amherst). Furthermore, the company recognizes the learners' achievements with annual recognition ceremonies that are attended by everyone from other warehouse employees to the founding owners."
Mary Lynch, teacher of the English classes, stated, "La Tienda's motivations for offering English class seem genuinely selfless. They want their employees to learn language skills that will help them not only to be more effective workers but also healthier, more integrated, more self-sufficient members of their families and of the community. Primarily, the owners want to enhance their employees' lives."
La Tienda has seen a dramatic decrease in mistakes in their warehouse due to the language barrier since beginning the language classes. Their employees have more confidence in communicating with their supervisors as well as making every day tasks in their lives easier. "One of our employees said to me that he now can take his car to the auto shop to have work done and not be afraid that he will be taken advantage," said Alice Agnello, Human Resources Administrator. "I can even see the difference in how they sign their names when I send around office birthday cards. We take an active interest in our employees and we love to see how they improve."
For additional information, contact Don Harris at 757-566-9606 or visit http://www.latienda.com.
About La Tienda:
Founded in 1996, LaTienda.com is an online retailer offering a selection of over 800 gourmet food items from Spain. Family–owned and managed, the business is dedicated to working with artisan and small family businesses in Spain. LaTienda.com is headquartered in Williamsburg, Virginia, with its Spanish operation based outside of San Sebastian, Spain. Warehouses in Virginia and Alicante, Spain, ship throughout the United States, Puerto Rico, Canada and Europe. LaTienda.com will ship to over 85,000 customers in 2010, including restaurants and renowned chefs. The company was recently awarded the Captain John Smith Award at their local county's 17th annual Celebration of Business. The honor is awarded by the James City County Economic Development team to a business, organization or individual for exemplary contributions to their local community.
# # #