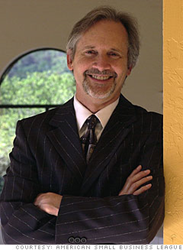 Orlando, FL (PRWEB) August 21, 2013
The Small Business Administration announced recently that our government just missed their overall 23% goal of small business contracting. The SBA claims that 22.5% was devoted to small business contracting, which was an increase from last year's 21.54% in 2011. However, organizations like the American Small Business League claim that these figures are fabricated, and millions of dollars are actually still illegally being awarded to large corporations. Fact or fiction?
In a phone interview with Max K. Timko of GovernmentContractingTips.com, Lloyd Chapman, President of the American Small Business League commented about these figures stating, "Federal law states that 23% of all government contracting dollars must be given to registered small business government contractors according to the Small Business Act. The most recent data from the Federal Procurement Data System (FPDS) show that the federal government spent around $1.1 trillion on unclassified contracts. That means that small businesses should be receiving around $253 billion. The SBA stated that $89.9 billion went to small businesses in 2012, which is 22.25 percent. Well that is just not true. When you look at FPDS, not what Lloyd Chapman (referring to oneself) says, it shows that some of the companies that received small business contracts were Fortune 500 companies. Sears, Honeywell, IBM, HP, General Dynamics and Coke to name a few directly out of FPDS. So when you look at the SBA's $89.8, of the top 100 recipients of small business government contracts today 72% are currently large businesses. A small business must be independently owned, and not publicly traded; not be dominate in their field, and have no NAICS codes with a maximum employee standard more than 1,500."
Mr. Chapman continued to state, "If you look at the volume of contracts and exclude the Fortune 1000 companies and you will find that the real acquisition budget is around $1.1 trillion. Small businesses have received somewhere around 5% and possibly no more than 3% of these small business contracts. So, for 2012 small businesses were suppose to get somewhere around $250 billion but they actually got less than $50 billion, which means they are short more than $200 billion. It appears that this has been going on for more than a decade. So in my viewpoint, people think that the SBA is there to help small businesses but is actually the most anti-small business organization out there." When GovernmentContractingTips.com tried to speak with someone over at the SBA the representative stated they did not have a comment on the subject.
The House of Small Business Committee Chairman Sam Graves, quoted on the SBA's numbers stating, "The fact that the federal government hasn't met this meager 23 percent small business contracting goal for seven years is simply unacceptable, and further proof that our government continues to give lip service to small companies." A major part of the problem is that not enough small businesses are properly registered as small business government contractors to take part in government contracting. Businesses large and small earn government contracts by becoming registered and bidding on contracts that fit their services. Every business must be registered in System for Awards Management (SAM) in order to be eligible for federal government contracts. Once a business is registered properly, their business can start bidding on government contracts on FBO.gov and view other solicitations on government agency databases. SAM registration can often take a business owner/employee days or even weeks to register. Only to have their registration rejected if a business's information is entered incorrectly.
Small Businesses for the past three years have been seeking out help with their registrations, turning to third party registration firms like US Federal Contractor Registration for their professional guidance. Mr. Chapman went on to comment about this stating, "I do not see any problem with third party registration firms helping small businesses become properly registered for government contracts. As long as you are registered properly you can do business with the government. When you try to call government agencies to learn about government contracting they will try to run you off the phone most of the time. They will try to say things like they are not buying, we are under another contract or tell a business they must have a GSA Schedule to do business with them. It is not true. Every government agency needs to quadruple the amount of contracts with small businesses. So any federal buyer you call should work with your business. Not one government agency is currently hitting their small business acquisition goal. Not a single government agency in Washington has ever hit their small business contracting goal. Not one! Use any means to win these contracts and become properly registered. Third party registration firms are a good way to get started in government contracting."
Eric Knellinger, President of US Federal Contractor Registration, the world's largest third party registration firm commented, "Mr. Chapman of the ASBL is absolutely right. Businesses must be registered properly if they want to start receiving government contracts. Around 640,000 businesses are registered to work for the federal government. Only about 170,000 are properly registered in System for Award Management (SAM). That means about 470,000 small businesses are not conducting business with the government because they are not properly registered in SAM. That is why we are here, to fix this problem and make sure these small businesses and new small businesses get a piece of the government contracting pie. We have properly registered tens of thousands of small businesses to be eligible for the government contracts and federal set-aside. We will not stop helping small businesses until every last one has been registered properly."
The United States Government is the world's largest consumer, spending billions of dollars everyday on government contracts. US Federal Contractor Registration provides Case Managers who are experts in SAM registration to help businesses become easily registered and start the bidding process. US Federal Contractor Registration (USFCR) not only registers businesses in SAM but also conducts federal marketplace evaluations. USFCR also provides marketing packages that connect businesses directly to federal buyers around the nation. There are also multiple government marketing strategies that USFCR provides small businesses. Their marketing services such as Capability Statement distribution and the construction of a government-formatted website allow government contractors extended opportunities to reach out to procurement officers around the world. These marketing strategies are proven to work and have helped small businesses win large government contracts. Businesses can call (877) 252-2700 Ext 1 to speak with a live government contracting expert about how to become registered in SAM and how start to winning contracts. To find out more about Lloyd Chapman, President of the American Small Business League, go to http://www.asbl.com or call (707) 789-9575 to learn more about his studies and findings on small business contracting. Bottom-line, small businesses need to be properly registered and enter the federal marketplace immediately to start winning contracts.