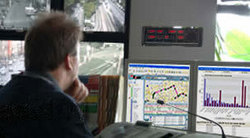 There were about 1.5 million auto repossessions last year, up by at least 10 per cent from 2006. But repossession is not always easy when vehicle owners move or leave the state
Fort Collins, CO (PRWEB) July 15, 2008
If it hadn't been for the wonder of GPS technology, Stephen Stough would have had to hunt much more feverishly for a stolen BMW.
"Without the GPS tracking device, it would have been impossible to find the vehicle given the proximity to where it was taken from," says Stough, giving credit to RM Tracking's GPS device rather than his own investigation skills.
Stough International, a private investigative firm, was called in to recover the $16,000 BMW 740 I Sporty Sedan, which was bought fraudulently using another person's bank account information. The buyer defaulted on the payments and drove the BMW 600 miles away to Atlanta.
Payment defaults being a civil offense, Stough, as a private investigator, was asked to recover the BMW. This proved to be a cinch, with RM Tracking's powerful GPS capabilities.
Traveling to Atlanta to track down the car, Stough called upon the assistance of Cory Cowger, a technical support supervisor at RM Tracking. Cowger gave Stough live positions of the vehicle from the web-based tracking software, such as, location of the vehicle, direction of travel, and speeds. As soon as the vehicle came to a stop, Stough was able to recover the car without incident and return it to its owner.
"There were about 1.5 million auto repossessions last year, up by at least 10 per cent from 2006. But repossession is not always easy when vehicle owners move or leave the state," says Brad Borst of RM Tracking. "Unlike the 20-year-old technology that is still on the market, RM Tracking's GPS tracking solution offers advanced technology with live web-based tracking - every auto recovery agent's true friend."
About Rocky Mountain Tracking, Inc.
Rocky Mountain Tracking was founded in 2003, and our headquarters are based in Fort Collins, Colorado. NavIQ, RMT's state-of-the art tracking solution, has become increasingly popular for fleet tracking, vehicle recovery and the tracking of people nationwide. NavIQ is a robust, yet economical tracking software. RMT is the leading GPS tracking provider in the United States. This software is the foundation for our first-rate GPS vehicle tracking system selection. RMT's GPS hardware has met strict testing and certification standards. RMT's mission is to provide a high quality and affordable tracking solution for every application using the latest technology. For more information, please visit http://www.RMTracking.com.
###