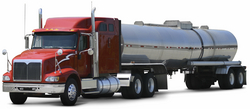 We deliver product to customers across the Midwest, so knowing the location of our rigs helps us ensure that we can get product delivered right away. Since we haul used bulk oil in tank trailers and flammable lubricants in dry vans, installation of SmartFleet gives me piece of mind that we can respond to any hazmat safety or security issue right away
Edmonton, AB (PRWEB) November 5, 2007
Valley Distribution, one of the American Midwest's premier distributors of automotive, fleet and industrial lubricants, has selected Safefreight's GPS fleet security and safety system for their trucks, tank trailers and dry vans. SmartFleet™ was installed on Valley Distribution's vehicles to provide real-time tracking of rolling assets, hazmat fleet security and management of state mileage reports.
"We deliver product to customers across the Midwest, so knowing the location of our rigs helps us ensure that we can get product delivered right away. Since we haul used bulk oil in tank trailers and flammable lubricants in dry vans, installation of SmartFleet gives me piece of mind that we can respond to any hazmat safety or security issue right away," said Ken Reif, President of Valley Distribution. "We evaluated a number of products, but the one with the best value for the functionality provided was SmartFleet," added Reif.
Safefreight's fleet management software - SmartFleet™ Manager - also eliminates the need for paper driver trip reports for the purposes of recording state mileage. Safefreight's automated system helps Valley Distribution calculate state mileage reports in each state so that they can accurately determine fuel tax credits. By integrating fuel usage reporting service, SmartFleet™ Manager helps to simplify the process for clients when they file claims for fuel tax rebates.
Safefreight Technology has developed a uniquely robust fleet management solution that delivers anytime, anywhere visibility on demand. SmartFleet™ gives clients the power to manage their trucks, dry van or tank trailers more effectively by delivering the tools they need to:

determine and provide accurate delivery times
support driver safety
optimize security
reduce operating costs
About Valley Distribution
Valley Distribution, headquarterd in Cedar Rapids IA, is a distributor of Exxon-Mobil products and one of the Midwest's premier distributors of automotive, fleet and industrial lubricants. Additionally, Valley Distribution provides a waste management service for customers who generate used oil, used oil filters and antifreeze. Through this service, their goal is to minimize cradle-to-grave liability through total management of petroleum waste streams through quality, cost-effective management systems.
About Safefreight
Founded in 1998, Safefreight is a developer and provider of security-enhanced fleet management technology. Through its SmartFleet™ system, Safefreight provides full truck security and fleet visibility through proprietary technology that comprises a web-based GPS vehicle tracking and fleet management software application. In addition to optimizing fleet operations, this GPS fleet management technology provides situational awareness of trucks, dry van and tank trailers, and the tools for fleet managers to reduce risk, including those related to the transportation of hazardous materials.
###