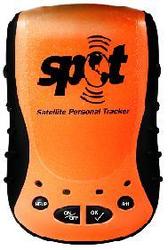 GlobaFone has a strong reputation of providing our clients with results-oriented solutions
Portsmouth, NH (PRWEB) November 27, 2007
GlobaFone, a leading provider of satellite communications solutions announced today that it has begun shipping the revolutionary new GPS messenger product known as SPoT. The SPoT product and services are designed to enhance safety and is particularly valuable to people who work alone in the field, are in remote locations with no communications, and outdoor enthusiasts - people who hike, bike, hunt, kayak and snowmobile, among other outdoor sports. SPoT provides all of these people with a crucial source of communication to family, friends, and if needed, emergency services. SPoT works completely independent of cellular coverage and in locations where cellular doesn't work at all.
"GlobaFone has a strong reputation of providing our clients with results-oriented solutions," said GlobaFone President Lou Altman. "We look forward to helping save lives." Other GPS devices tell YOU where you are. Contrast that with SPOT that tells OTHER people where you are. The customer is able to pre-script messages and e-mail or SMS delivery options. Said Altman, "This is a key product differentiator and key to helping save lives. If you are injured, you already know where you are. An injured or lost person needs to tell other people where they are and that you need help."
Designed primarily for hikers, backpackers, hunters, snowmobilers and other outdoor enthusiasts who are often out of cell phone range, SPoT's features of Check-In, Tracking, Help and Alert 9-1-1, are especially compelling. SPOT enables users, based on varying levels of need, to send messages to friends, family, or emergency responders, and to visually track the location of the SPOT Satellite Messenger:

The 9-1-1 button lets the user notify emergency responders of their GPS location
The Help button sends a non life-threatening help request to family and friends
The OK button allows the user to tell family and friends that they are OK
The OK button also enables real-time tracking locations to be displayed via Google Maps(tm)
Weighing just more than seven ounces and priced at less than U.S. $150, the SPOT Satellite Messenger is a perfect GPS accessory for the more than 60 million backpackers, campers, hikers, snowmobilers, hunters ice and rock climbers, extreme skiers, snow-shoers and other outdoor enthusiasts.
Find SPOT from GlobaFone at the website http://www.mysattracker.com and by calling GlobaFone directly at 1-800-826-6152.
About SPOT, Inc.
The SPOT Satellite Messenger, the world's first satellite messenger, uses both the GPS satellite network to determine a customer's location and the SPOT network to transmit that information to friends, family or an emergency service center. SPOT Inc., a subsidiary of Globalstar, Inc., (Nasdaq:GSAT) provides lifesaving communications technology that allows users to communicate from remote locations around the globe. Thanks to this affordable, cutting-edge personal safety device, the company offers people unmatched peace of mind by allowing customers to notify friends and family of their location and status, and to send for emergency assistance in time of need, completely independent of cellular phone or wireless coverage. For more information on how SPOT Inc. is helping users 'live to tell about it'(tm) -- from disaster preparedness to outdoor adventure purposes – visit http://www.mysattracker.com.
About GlobaFone
GlobaFone is a leading provider of satellite communications to numerous Federal, State and Local Agencies as well as private and public corporations. They serve as not only the dealer/reseller for these clients but more importantly as the trusted advisor. As an objective provider, GlobaFone's solution recommendations match the client need, not the sale item of the month. Their success with this model is demonstrated by their intense client loyalty and more importantly the fact that 40% of GlobaFone's new business is from unsolicited, internally-generated referrals.
###