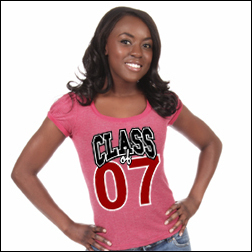 My mom made me a Hoodie and put my football number on it ... I didn't think she could do it but it looks pretty good.
Ann Arbor, MI (PRWEB) June 7, 2007
Students all across the country went online last month to visit SpiritShop.com, where they designed cool class year T-shirts for their parents to buy for them. Parents found that these custom products were ideal presents to commemorate a graduation as well as gifts for children advancing to the next school year. "My daughter is so excited to be a freshman and in high school that we couldn't help but buy one of the (Freshman) designs for her ... she loves it!" - Jennifer B.
These new designs range from graduation T-shirts to 3rd grade class sweatshirts. Each design is editable to include names and numbers, and can be placed on a variety of products that Spirit Shop offers. Because the program is so successful, Spirit Shop created a special area on their web site called "Class Years", to make finding the designs and typing in the school names even easier for parents. Parents can use Spirit Shop's extensive art library, which includes hundreds of mascot images, as well as thousands of other unique graphics, to further the personalization these products to surprise their kids. "My mom made me a Hoodie and put my football number on it ... I didn't think she could do it but it looks pretty good." - Ricardo S.
Whether customers are in search of the perfect class shirt, innovative gifts for friends and family, or just want to enjoy making something fun in remembrance of a great school year, Spirit Shop is ready to deliver thanks to several resourceful students all across the US. Best of all, Spirit Shop donates 15% of the product price back to schools which has become an important source for school fundraising.
About SpiritShop.com
Spirit Shop allows individuals in educational, recreational sports markets to design and purchase their own school or team-branded apparel and merchandise online with no minimum orders. The company's digital printing, embroidery and manufacturing technologies allow it to create high quality products at competitive prices. In addition, Spirit Shop's screen printing capabilities allow it to offer bulk orders at attractive discounts and 15% of the product price is donated back to registered schools or teams.
For more information about Spirit Shop, please call 877.848.3907 or send an email to info @ spiritshop.com.
###