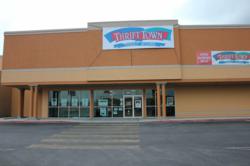 Our San Antonio customers have been asking us for a bigger store with better parking, and we are so proud to grant their wishes with this gorgeous, well-merchandised store. Wendy Steinmetz, VP of Marketing, Thrift Town Stores
San Antonio, TX (PRWEB) October 19, 2012
They say everything is bigger in Texas, and for Thrift Town, that statement is true for their new San Antonio store location. Thrift Town Stores will be celebrating the opening of their newest store location at 2864 Thousand Oaks Dr., San Antonio, TX, 78232, October 22nd through October 28th with a week-long grand opening community party complete with daily giveaways, special coupons, and blowout sales.
Voted Best Thrift Store in San Antonio, Thrift Town changed store locations to better serve the community they've been a part of since opening their doors in 1988. Thrift Town has made a difference locally by purchasing its merchandise from The Arc of Texas – the state's largest & oldest volunteer-based nonprofit organization dedicated to serving people with development disabilities.The new store offers consumers more square feet for an easier shopping experience, more product selection, and also features state of the art merchandising.
Thrift Town kicks off the week long Grand Opening Celebration October 22nd. Along with blowout sales of 30%-50% off their already bargain prices, daily giveaways will be handed out to the first 50 customers, in addition for chances to win bikes, ipad2s, an HDTV, Thrift Town shopping sprees and more if you sign up to be a part of Thrift Town's VIP customer recognition program and are from San Antonio (existing San Antonio VIP customers are automatically entered to win). Thrift Town has also partnered with KSMG & KONO radio stations who will be onsite during the week with a money machine and chances to qualify to win a Ford Mustang.
Thrift stores in general have seen a dramatic increase in consumer traffic over the past few years due to the state of the economy. Studies show that people are simply smarter with their money and are turning to thrift shops for everyday items such as clothing and housewares in order to save on overall expenses. Thrift Town completely removes the stigma that has been traditionally associated with thrift, by opening facilities that rival big box retail stores, truly giving them a run for their money, and making the consumer feel comfortable and safe in a thrift environment, which can otherwise be overwhelming.
"Our San Antonio customers have been asking us for a bigger store with better parking, and we are so proud to grant their wishes with this gorgeous, well-merchandised store. Our entire team came together to bring the new Thrift Town to life, and our customers have already given us a huge, warm welcome. Thank you San Antonio - we are so thrilled to offer you this new and exciting Thrift Town shopping experience!" ~ Wendy Steinmetz, Vice President-Marketing
4,000 gently used items are put out daily at each of Thrift Town's stores. Thrift Town also recently extended store hours to accommodate consumer demands. New store hours are Monday through Saturday 9 a.m. to 9 p.m. and Sunday from 10 a.m. to 6 p.m. Thrift Town is well known for their customer service and engages with customers not only every day in one of their 15 store locations, but also via social media such as Facebook, Twitter, and Pinterest. Thrift Town also has a robust VIP customer rewards program, dedicated weekly blog, and runs consumer contests raising awareness of the benefits of thrift in a fun and enriching environment.
Thrift Town is owned and operated by Norquist Salvage Corporation, who has spent over four decades dedicated to socially responsible recycling. Their award winning clean, bright, and organized stores set them apart in the thrift world as the premier thrift destination. Thrift Town lives its vision statement of being committed to making a difference every day, and is proud to have helped raise more than $250 million dollars for their charity partners.