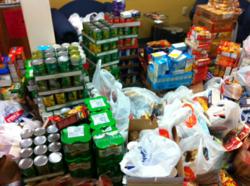 Kansas City, Mo. (PRWEB) November 26, 2012
Grantham University hosted Operation Thanksgiving for the sixth year in a row with the proceeds benefitting Della Lamb Community Services, an organization that provides Thanksgiving groceries to needy families in the Kansas City area. This year, Grantham's employees collected 2,766 food items and raised an additional $2,491.00.
"This is the time of year for coming together and giving thanks," said Joseph McGrath, President of Grantham University. "At Grantham, part of the ritual of giving thanks is giving back by helping families who otherwise might not have been able to have a Thanksgiving meal."
Grantham University is one of the oldest accredited, private, degree-granting distance education universities in the United States. The University's accredited online degree programs are flexible and portable, allowing students to fit education into their life instead of arranging life around their education. The University offers a variety of associate, bachelor's and master's online degrees. For more information about Grantham University and its degree programs, visit http://www.grantham.edu or call 800-955-2527.
About Grantham University:
Established in 1951, Grantham University specializes in online education for the working adult student. Grantham's online undergraduate and graduate degree programs include: Accounting, Business Intelligence, Criminal Justice, Computer Science, Engineering Technology, Allied Health, Information Technology, Medical Coding and Billing, Nursing, Human Resource Management and Business Administration degrees. Accredited since 1961 by the Accrediting Commission of the Distance Education and Training Council, Grantham University has compiled a distinguished record as a respected and accredited distance learning university spanning six decades of service to education.