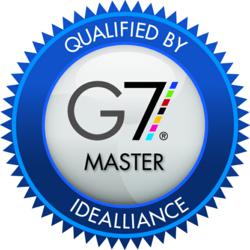 This G7 Master Printer Qualification not only underscores [Graphcom's] commitment to quality, but it will also allow us to demonstrate to our clients our consistency in color reproduction from proof to final product. - Matthew D. Livelsberger, President
Gettysburg, PA (PRWEB) March 06, 2012
Graphcom, Inc., a full-service marketing firm located in Gettysburg, Pa., today announced it has achieved a G7 Master Printer Qualification from IDEAlliance (International Digital Enterprise Alliance). The G7 Master Printer Qualification recognizes Graphcom's commitment toward ensuring consistent color match from proof to final product and providing consistent accurate color throughout the print production process.
The G7 Master Printer Qualification applies to all of Graphcom's proof, digital and offset printing services, allowing the company to match color across multiple systems so that clients' print colors will appear the same regardless of where or how the materials are printed.
Graphcom joins 761 G7 Master Printers across the United States with this professional certification from IDEAlliance. Of all printers operating nationwide, less than 3 percent are qualified G7 Master Printers.
The G7 Master Printer Qualification, developed by IDEAlliance and GRACoL, is named for its gray scale calibration technique and the seven ISO ink colors. The press team at Graphcom worked in conjunction with a G7 consultant to educate staff about G7 standards and calibrate Graphcom's proofing systems and presses. Graphcom submitted the results of these internal calibrations on various paper stocks to IDEAlliance for approval.
"Graphcom is extremely pleased to have received this G7 Master Printer Qualification," said Matthew D. Livelsberger, president of Graphcom. "Since its founding, Graphcom has always maintained very high standards for print production work for our clients. This G7 Master Printer Qualification not only underscores this commitment to quality, but it will also allow us to demonstrate to our clients our consistency in color reproduction from proof to final product."
According to IDEAlliance, print buyers are making G7 a buying requirement, citing the critical need for similarity across all print projects distributed geographically or across different print types.
Once certified, G7 Master Printers must be recertified annually to ensure they preserve proper calibration and processes in their respective print production facilities.
About IDEAlliance
IDEAlliance (International Digital Enterprise Alliance) is a not-for-profit membership organization that has been a leader in information technology and publishing since 1966.
IDEAlliance advances core technology to develop standards and best practices to enhance efficiency and speed information across the end-to-end digital media supply chain — creation, production, management, and delivery of knowledge-based multimedia content — digitally and in print.
About Graphcom, Inc.
Founded in 1982, Graphcom, Inc. is a full-service marketing firm and G7 Master Printer located in historic Gettysburg, Pa. Since its founding, the company evolved from a small print operation into a full-service graphic communications firm with a keen focus on delivering results for clients through the execution of various custom workflow partnerships, media campaigns, traditional marketing collateral items, and interactive/new media solutions. Graphcom believes in consistently achieving measurable results and showing a positive impact on the clients' bottom line.
Graphcom's services include offset and digital printing, mailing and fulfillment services, online ordering, and print management solutions.
Graphcom Creative, a division of Graphcom, is a full-service marketing and creative design firm specializing in public relations and marketing solutions, graphic design, web design and development, mobile app design and development, e-mail marketing, SEO/SEM consultation, and writing and editing services.
Signs by Graphcom produces a variety of banners, trade show booth displays, posters, indoor and outdoor signage, vehicle wraps, and custom fabric printing materials.
Field & Floor FX, a division of Graphcom, specializes in digital flags, backdrops, scrims, and digital floors to meet the needs of drum corps, marching bands, indoor color guard, and percussion ensembles.
For more information on Graphcom, visit http://www.graphcom.com, e-mail info(at)graphcom(dot)com or call 800-669-1664.