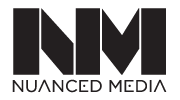 We strive to give all the graphic and web designers that work at Nuanced Media the creative agency to find the appropriate solutions for our clients."
Tucson, AZ (PRWEB) March 12, 2013
Nuanced Media has recently opened a new Tucson graphic design job. The company is expanding at a rapid pace and an experienced graphic designer is required to keep up with client demand. Representing over 30 clients in the digital arena, and taking website design clients all the time has left Nuanced Media with the need to expand its graphic and web design prowess.
"We strive to give all the graphic and web designers that work at Nuanced Media the creative agency to find the appropriate solutions for our clients," said the Director of Marketing at Nuanced Media, Timmy Martin. "We respect our designers as the experts that they are, and rely on them to solve challenging and unique design problems."
Nuanced Media has set up a web page with information of the job easily accessible.