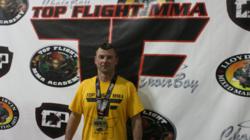 Belcamp, Maryland (PRWEB) December 26, 2012
This past Saturday, Terry Mackie (from Top Flight MMA in Belcamp Md) went up to Asbury Park, NJ for the annual Grapplers Quest submission grappling championship. Grapplers Quest is known its cream of the crop competitors and for producing great MMA/ UFC talent. Grapplers Quest is the proving grounds for the professional stages of Mixed Martials Arts and Brazilian Jiu-Jitsu. Thousands of competitors come from all over for their chance at earning Grapplers Quest gold, but only a few get the honor of putting the gold medal around their neck and Terry Mackie was one of the few.
In his 1st match, Terry had a tough and equally determined opponent to challenge him. After 4 minutes of dogged battle the score was tied up and went into overtime with both combatants extremely gassed. In a desperate attempt Terry landed a double leg takedown and scored the only points of the overtime allowing his hand to be raised and advanced to the next round.
Then in the Gold medal round, Terry, sensing the close proximity of the ultimate goal, came out like his life depended on winning the gold. Terry put the pressure on forcing his opponent to pull closed guard. Avoiding a slick triangle, Terry passed the guard and went from cross side to the mounted position, getting 7 points along the way. Terry finished the match with a bent armlock submission called the Americana. Terry Mackie was victorious and gold medal recipient by way of Americana submission.
When asked about his feeling on winning gold Terry had this to say, " It been 20 yrs since I competed in anything and there is one thing that never gets old. And that's winning the Gold. (Smiling)"
And what made this moment extra special was Terry's family being in a attendance to watch him battle his way to the gold, and his son, who is often seen at the gym watching his dad practice, was overjoyed with his dad's accomplishment.
Terry has only been training for such competitions as this for a few months in the combat athlete program at Top Flight MMA academy. Terry has now joined the ranks of his other Top Flight teammates who have brought home Grapplers Quest gold, and with his work ethic and love for the martial arts there will be many more gold medals to come.