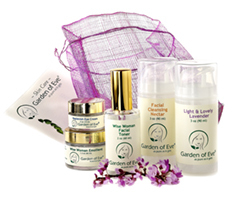 "We don't need to sacrifice our health for the beauty of our skin, and likewise we don't need to sacrifice the health of our planet to have beautiful skin. Excellent results can be achieved with ingredients from nature."
Afton, VA (PRWEB) April 1, 2010
Garden of Eve is proud to honor Earth Day 2010 by showcasing a 'Green Goddess' offering. Everyone enjoys a bit of pampering in their lives, and with Earth Day just around the corner, Garden of Eve presents a perfect opportunity to indulge in self-pampering and simultaneously care for the planet with their 'Green Goddess' Earth Day offer.
What is a Green Goddess? - a savvy and eco-conscious woman who wants and expects the best for herself and her environment. Garden of Eve offers environmentally conscious consumers an opportunity to make a commitment to the environment, protect their own health and beauty, and save money, all at the same time.
For an environmentally-friendly business the health of the planet is a daily consideration. At Garden of Eve a prime focus is to reduce the carbon footprint of skin care production. Ingredients are prepared by natural methods – steam distillation of herbs for essential oils and hydrosols, cold pressed carrier oils, and natural gas extracts. There is minimal electrical power and minimal water use in production. No environmentally damaging chemicals are used.
Additionally to support fair trade efforts 'Kits and Gifts' are packaged in hand-made fiber bags and bamboo boxes produced by a fair trade company in the Philippines. The containers of the finished products can be reused or recycled. Shipping supplies are also reusable, recyclable biodegradable materials often from suppliers' shipments and local stores that would otherwise end up in landfill. Printing is on recycled paper and Energy Star-rated electronic equipment is chosen.
This is what qualifies Garden of Eve as green "Skin Care that Cares for Our Planet."
In the words of Eve Stahl, founder of the company, "We don't need to sacrifice our health for the beauty of our skin, and likewise we don't need to sacrifice the health of our planet to have beautiful skin. Excellent results can be achieved with ingredients from nature."
Purchasing any of Garden of Eve's unique products means seizing an opportunity for self care and pampering with special care and consideration for the planet. Your skin is a window to the rest of your body and your health, and with Garden of Eve products you are making sure your skin reigns supreme. Of course, being able to combine the incredibly luxurious experience of Garden of Eve products, with a commitment to caring for the planet is doubly beneficial, in fact, fit for a Goddess!
By logging onto the Garden of Eve website and using the special discount code EARTH2010 at checkout, any woman can be a Green Goddess when purchasing a Face Care Sampler Kit or Face Care plus Hand and Body Care Sampler Kit.
# # #