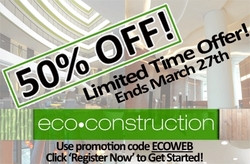 Times are tough, but the green building industry is extremely important and moving forward
Portland, ME (PRWEB) March 20, 2009
IntertechPira has partnered with The CarbonNeutral Company, a world leading carbon offset and carbon management company, to reduce the carbon emissions for this years Eco-Construction Conference, taking place April 21-22nd, in Chicago, IL USA, to net zero
With Eco-Construction 2009 coinciding with Earth Day, IntertechPira felt it was vital that they took responsibility for their own carbon footprint to help tackle climate change. They did this by working with The CarbonNeutral Company to measure and reduce the carbon emissions of the event to net zero. This means that all the CO2 emissions associated with the heating, lighting, waste, supplier and organizer travel were measured and then counter balanced with an equivalent amount of tonne saved by a validated emission reduction project.
Mark La Croix, Executive Vice President, Global Business Development , The CarbonNeutral Company said, "We are delighted to support the work that Eco Construction Conference are doing in taking responsibility for their carbon footprint. Reducing your emissions to net zero helps tackle climate, the next step is communicating and encouraging others within the construction sector that they too can make a difference to the climate by making simple changes."
Acknowledging the challenging economy and tightening corporate travel budgets, IntertechPira is offering a registration price of $500 through Friday, March 27. That's 50% off the standard registration rate. "Times are tough, but the green building industry is extremely important and moving forward," says Barbara Rojas, producer of Eco-Construction 2009. "IntertechPira wants to foster continued development, and offers this as an economic stimulus plan for you."
To take advantage of this offer, use promotion code ECOWEB when you register online at http://www.ecoconstructionconf.com.
To learn more or register, visit the event website at http://www.ecoconstructionconf.com, or contact Barbara Rojas at IntertechPira: +1 207 781 9608 or Barbara.rojas (at) pira-international (dot) com.
About IntertechPira
IntertechPira provides events, training, online information and publications across a wide range of niche commodities and disruptive technologies affecting industry. Our 100% independent products are provided globally 24/7 and delivered by teams of independent experts at sites in Portland, Maine, US and London, UK through 20 specialized industrial platforms. Our core competencies are information on: research and product development; globalization and new markets; production methods; regulatory and compliance.
About CarbonNeutral
The CarbonNeutral Company (http://www.carbonneutral.com) is a world leading carbon offset and carbon management business, working with over 300 major businesses and thousands of small and medium sized companies. Over the last ten years, they have purchased carbon credits from almost 200 projects spread over six continents.
CarbonNeutral® is the registered trademark of The CarbonNeutral Company and is the leading brand mark and quality standard for action on climate change. Permission to display the CarbonNeutral mark is only given to clients when CO2 emissions have been measured and reduced to net zero through a programme implemented in accordance with The CarbonNeutral Protocol. This Protocol assures quality of offset projects, carbon footprint assessments and communication and is regularly reviewed by an Independent Advisory Group. The 'audit trail' includes an annual independent verification of CarbonNeutral programs - from contracts with carbon offset partners through to contracts with clients and everything in between.
The CarbonNeutral Company has two regional operating headquarters in New York and London, as well as offices in San Francisco and Singapore, and a network of affiliates in Japan, Canada, France and UAE.
The CarbonNeutral Company is a founding member of The International Carbon Reduction and Offset Alliance (ICROA), which provides leadership and a unified voice advocating for rigorous industry standards http://www.icroa.org.
###