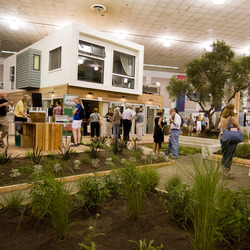 The general mood of West Coast Green is a call for paradigm shifts
San Francisco, CA (PRWEB) August 13, 2009
West Coast Green, America's largest conference on green innovation for the built environment, will return to its San Francisco roots for 2009, this time welcoming over 14,000 expected attendees into the seaside hangars of Fort Mason. The October 1-3 conference will spotlight 125 speakers, 80 education and networking sessions and 300 exhibits.
Featured speakers include Ray Anderson of Interface, Inc., Panama Bartholomy of the California Energy Commission, Eric Corey Freed of Organic Architect, Michelle Kaufman, Hunter Lovins, and Gil Friend of Natural Logic.
Event highlights include:
Leadership Summits - Participants work with industry leaders to create change. Facilitators will ensure that everyone in the room is acquainted before working together to identify issues and create solutions that will later be published! Eight summits include: Clean Tech, Water, Greening Existing Buildings, Stimulus Package and Green Job Development, Social Innovation, Tribal Development, and Education.
Green Jobs Pavilion - Participants meet face to face with more than 50 employers, connect to job resources and hone in on the best matches between your incredible skills and the opportunities in green.
Facilitated Daily Networking Cafes - An effective, efficient and easy place to find business opportunities, colleagues and collaborators. The event is designed to send you home with pockets full of business cards.
The Action Hub - Creation flourishes here. Participants are empowered to bring ideas to life, develop business ideas, take an existing network to a new level, or form new collaborative groups to launch an idea, product or company. Consultants, investors, academics, facilitators and experienced coaches all dedicate time to supporting their colleagues in the Action Hub each year.
Innovation Pipeline - This space showcases technological products and services coming to market or in development. Visit this incredible "Exploratorium" like exhibit and experience more than fifty revolutionary and resource-efficient products. These fresh, progressive innovations are solution based and give a glimpse of a future with a limited footprint.
2009 Tracks

Smart systems
Existing Buildings & Building Science
Water & Energy
Clean Tech Innovations
Business Opportunities & New Energy Economy
Social Innovations
"The general mood of West Coast Green is a call for paradigm shifts," said Katie Kurtz of worldchanging.com in an editorial about West Coast Green. "The current environmental movement is now framed as a consumerist's movement."
Dates: October 1-3, 2009
Location: Fort Mason Center, San Francisco, CA
Information: http://www.westcoastgreen.com
Twitter: http://www.twitter.com/westcoastgreen
Facebook: http://www.facebook.com/WestCoastGreen?ref=profile
Registration options include advanced pricing, student, spouse and partner discounts as well as group rates. Scholarship and volunteer opportunities are also available. To register, or for more information, visit http://www.westcoastgreen.com/register/ or call (800) 724-4880.
West Coast Green sponsors include PG&E, The Home Depot Foundation, Sun Light and Power, NCFI and others.
West Coast Green is an annual conference launched out of a need for a common conversation for decision makers influencing the greening of the built environment. Today, four years since its inception, West Coast Green continues to provide dynamic, big-picture, systems-thinking education, strategy, connections and professional development to these leaders.
Media Contact:
Ian Bryan
828-242-1868
###