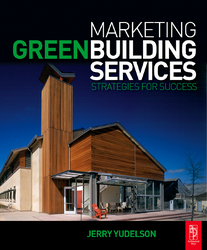 Marketing Green Building Services: Strategies for Success
Tucson, AZ (PRWEB) November 20, 2007
The rapid growth in the number of green building projects does not ensure the success of every marketing endeavor. Frequently, marketers and developers need to explain the reasons and the financial benefits of making a building project "green" and according to author and green building speaker, Jerry Yudelson, "It's the firms that take green marketing seriously that will be the real winners."
Yudelson's new green building book from Architectural Press, a division of Elsevier, "Marketing Green Building Services: Strategies for Success" is the first book to provide a comprehensive treatment of the green building marketing opportunity, combining a rigorous factual presentation with a clear explanation of how modern marketing approaches can be used to promote green building services and projects.
To date, "Marketing Green Building Services: Strategies for Success" is the most detailed book on how to approach green building marketing because it shows marketers how to tailor their approach specifically for each major sector of the building industry. In fact, this green building book contains the first sector-by-sector analysis of the green building marketing opportunity and demonstrates that each building type and owner type has good reasons for "going green."
Yudelson noted that the green building market has grown faster the first nine months of 2007 than in all of last year. "Cumulative LEED project starts are up 64% through nine months, vs. 50% for all of 2006," he stated. Yudelson also pointed to the fact that membership in the U.S. Green Building Council grew by more than 60% in 2007 as additional evidence that what he calls "the green building revolution" has accelerated.
Yet, he added, "It is the companies with clearly defined marketing messages that can best leverage the success strategies illuminated in 'Marketing Green Building Services.' Developers, architects, engineers and contractors with the clearest messages will find the broad-based support necessary to become the standout leaders in the green building industry."
About Jerry Yudelson
Jerry Yudelson, is a leading green building consultant, green building speaker and national authority on green buildings and corporate sustainability, with six green building books and more than three dozen magazine and newsletter articles to his credit during the past three years. He is also the senior editor of the web site, http://www.igreenbuild.com , where he writes a monthly column. Mr. Yudelson is a former Board Member of the U.S. Green Building Council, a national nonprofit with some 10,000 corporate, agency and institutional members. He has trained more than 3,000 people in the LEED green building assessment framework since 2001, and he served on two national committees developing the next generation of green building standards.
About the Green Building Consulting firm, Yudelson Associates
Yudelson Associates, Tucson, AZ, http://www.greenbuildconsult.com , is a green building consulting company dedicated to "growing the business of green building" and facilitating sustainability initiatives in higher education and the corporate world. Yudelson Associates offers project-specific green building consulting services, green building marketing consulting, workshops, keynote speaking, and corporate/institutional sustainability planning.
###