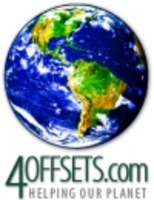 We were looking for an affiliate program that's large enough to bring us professional services and a quality affiliate network, but with a staff that actually remember who we are. That's why we chose Share Results
Ann Arbor, MI (PRWEB) March 13, 2008
Carbon Offset provider 4Offsets, llc announced that they has signed an agreement with Share Results, of Montreal, QC to launch the first affiliate marketing program for a US based carbon offset provider. 4Offsets, llc, is an Ann Arbor, MI based carbon offset provider, fighting global warming through the retirement of market traded carbon financial instruments. 4Offsets seeks to provide a simple, one-stop shop for offsetting CO2 with market based solutions.
"We were looking for an affiliate program that's large enough to bring us professional services and a quality affiliate network, but with a staff that actually remember who we are. That's why we chose Share Results", 4Offsets CEO, Fred Weiss said in a written statement. The problem of global warming is rapidly creating new opportunities for businesses that reduce or offset greenhouse gas (ghg) emissions. "Internet affiliate programs often lead the way for a new industry or product. Companies like Amazon and LendingTree built their early businesses on affiliate networks and we hope to succeed this way too", Weiss added. For Share Results adding a client such as, "4Offsets.com helps expand our line up of merchants to include one of the newest, innovated products to enter the market. Said Nicky Senyard CEO of Share Results. She added, "Global Warming is increasingly a part of our daily lives, we're proud to help by partnering with businesses that are focused on fighting that problem".
4Offsets, llc.
4Offsets, llc is involved in providing business and individuals a way to fight Global Warming with Carbon Offsets. The company, located in Ann Arbor, Michigan was founded in 2007 with the goal of bringing tools for fighting global warming to small business and individuals. Through the companies initial efforts, 4Offsets and its clients have already removed over 2 million pounds of CO2 offsets from the market. The 4Offsets affiliate program is expected to launch in mid to late March 2008.
Share Results
http://www.shareresults.com
Based in Montreal, Quebec, Canada since 2004, Share Results is a global, fast-growing affiliate marketing network and software provider committed to success through building affiliate and merchant relationships. Share Results' extensive experience in managing and growing affiliate programs assists businesses to launch and grow their affiliate channels through personalized and professional consultation.
The Share Results network is powered by proprietary software and is used by brands including eLearners, Photobucket, Dental Plans, Hatley, Love Toner, UTourGolf and soon-to-be launched HMV and WatchNCatch.
###