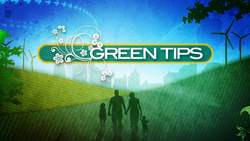 We saw an opportunity in the digital signage and web-content market that isn't being met currently
Seattle, WA (PRWEB) February 24, 2009
Eyeplay announced today the release of a unique content product for digital signage networks and the web called Green Tips. Green Tips is an eye-catching collection of 52 plug and play clips, each with an engaging factoid for ways to be green, at home and at the office. The off-the-shelf content collection incorporates original, cinematic HD footage, stylish animated HD motion graphics and custom music. The high level of craft and visual aesthetic, combined with an affordable price point, starting at $895.00 licensed, is a first for the digital signage and web content industry. Visit Green Tips E-Commerce Site to preview the Green Tips collection, download free clips and to purchase online.
The Green Tips collection features user-friendly flexibility to meet the needs of digital signage networks, communication professionals and website owners. Green Tips includes 52 single clips for use within play lists as well as a single 17-minute loop clip. Customers can choose HD or SD resolution, horizontal and vertical display orientations, along with a choice of Windows Media Video (.wmv), QuickTime (.mov) or DVD formats for playback on virtually any digital signage system, flat-panel screen or website. It's a plug and play collection so that users can instantly add Green Tips to their current digital signage programming.
Green Tips is an effective way for companies to be socially relevant in today's green-conscious world. Green Tips offers customers the option of customizing the collection of tips by adding a company logo. Branding the collection of Green Tips with a company logo is a powerful way for an organization to show their commitment to being green to customers, partners, employees and other key stakeholders.
Kevin Smith, President & Creative Director of Eyeplay, explained how Green Tips aligns with the needs of marketing professionals and communicators within the digital signage and web-content industry.
"We saw an opportunity in the digital signage and web-content market that isn't being met currently," said Smith. "Marketers and communication professionals are hungry for meaningful content that grabs attention. Green Tips, for the first time, incorporates stunning visual quality with thoughtful, useful bits of information about how to be a better green citizen. Green Tips attracts eyeballs, cuts through the clutter out there and is relevant to socially-minded audiences."
The uses for Green Tips range from a single-screen in a corporate lobby or public space to large digital signage networks across multiple locations. Green Tips is affordable even for a small company to add high end, engaging content to a single screen or multi-screen network. Green Tips content works effectively as interstitial spots between a user's existing content too. Green Tips keeps audiences engaged with meaningful, eye-catching factoids -- a key to an effective and powerful digital signage network.
"The digital signage market for visually attractive and informative content is limitless at this point. There's an ever increasing need in today's video savvy world to produce content that is both attention grabbing and meaningful to the viewer," noted Smith. "We see Green Tips as the first of several future themed collections to include healthcare, finance and lifestyle, to name just a few. Communicators are seeking plug and play content like Green Tips that combines high aesthetic design and production value with socially conscious and relevant information."
Green Tips is a unique digital signage and web-content collection of 52 animated digital factoids with quick tips for living green. It's plug and play ready for digital signage networks, flat-panel screens and websites, available in a variety of formats, resolutions and screen orientaions. For communicators and marketers looking to show their commitment to being green, Green Tips is an eye-catching and engaging content product to do so.
For additional information on the news that is the subject of this release (or to view or purchase Green Tips), contact Eyeplay or visit the Green Tips E-Commerce Site.
About Eyeplay
Eyeplay is a full-service creative firm specializing in cinematic storytelling, HD video production and digital signage content design.
###