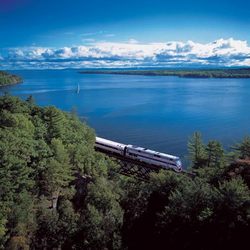 Rail travel is an environmentally-friendly form of transportation
Chicago (PRWEB) July 7, 2008
Travelers looking to "go green" and see the country need not look further than a train vacation from Vacations by Rail. The Chicago-based specialty travel company selling independent travel and group train tours and vacations around the world offers an array of exciting Amtrak train vacations for every interest along the most popular train routes in the United States.
According to U.S. Department of Energy data, Amtrak is 17 percent more efficient than domestic airline travel and 21 percent more efficient than auto travel on a per passenger mile basis. "Rail travel is an environmentally-friendly form of transportation," said Todd Powell, president of Vacations by Rail. "An Amtrak train vacation is the great way to travel across the U.S. and witness unspoiled pieces of our country in a very 'green' way."
Vacations by Rail recently polled more than 20,000 customers and web users on their favorite Amtrak rail routes. Rounding out the top 10 are:
1. The Empire Builder
2. California Zephyr
3. Coast Starlight
4. Amtrak Cascades -Pacific Northwest
5. Acela Express
6. Southwest Chief
7. City of New Orleans
8. Texas Eagle/Adirondack (Tie)
9. Silver Service/Palmetto
10. Sunset Limited
Another bonus of a train vacation across the country: cost. With the price of gas making road trips to popular U.S. vacation destinations cost-prohibitive, rail vacations across the country are becoming a more affordable way to see and do it all in a unique and relaxing way.
To learn more about Vacations by Rail's Vacations using Amtrak, visit the company's web site at http://www.vacationsbyrail.com.
About Vacations by Rail:
Vacations by Rail is the leading seller of rail travel and tours in North America and the trusted authority on rail vacations. Travelers can choose from the largest selection of independent rail vacations, escorted rail tours, luxury rail journeys in North America, Europe and beyond. Vacations by Rail also provides virtually every European rail pass and ticket to meet customers European travel needs. For more information on Vacations by Rail and the company's products, email marketing(at)vacationsbyrail.com or call 1-877-929-7245.
###