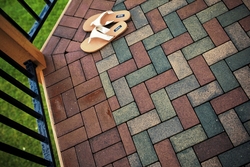 Landscape architects and contractors asked if we could apply our composite material technology and adapt our landscape pavers to solve the maintenance and replacement problems of wood and composite decking
Minneapolis, MN (PRWEB) April 22, 2009
Earth Day 2009 - VAST Enterprises, LLC, a material science research and manufacturing company, announced the introduction of VAST® Composite Deck Pavers. With its leading-edge composite material technology, VAST utilizes recycled materials to give VAST Composite Deck Pavers a distinctive look and feel not available with traditional treated wood or composite lumber products. VAST Composite Deck Pavers are a cradle-to-cradle green building material. They resist mold and mildew and require no staining, painting, sealing or other treatments. Other advantages: no loose screws or fasteners and no splinters.
"Landscape architects and contractors asked if we could apply our composite material technology and adapt our landscape pavers to solve the maintenance and replacement problems of wood and composite decking," said Andy Vander Woude, chief executive officer, VAST Enterprises, LLC. "We developed a lower profile paver and modified our installation grid to integrate water drainage. Now you can take the paver look and place it up on a deck."
"When it comes to decks, more customers are looking for low-maintenance options and more unique styles," said Dan Lieser, manager, ProBuild, Lakeville, Minn. "If a homeowner has a treated wood deck, for instance, that's gotten worn and shabby, a contractor can use VAST to retrofit right over the top. You get a brand new appearance with a maintenance-free material."
"VAST Pavers look natural. When we're at home and garden shows, we have to pick them up and hand them to folks to convince them that they're an engineered, composite material," said Bill Barton, owner, All Seasons Building Company, Burnsville, Minn. "Decking is a great application for VAST. And the style, colors and VAST grid system give us real creative design possibilities."
VAST Composite Deck Pavers measure 3 inches x 6 inches with a 1.6-inch height, and they weigh 6.5 pounds per square foot (compared to 2.6 inches in height and 9.7 pounds per square foot for standard VAST Composite Pavers). They are available in six different colors.
VAST Enterprises manufactures green building products with its patented technology that transforms post-consumer recycled rubber and plastics into an environmentally friendly, cradle-to-cradle green material: composite masonry. Thus, like all VAST composite masonry products, VAST Composite Deck Pavers are made from up to 95 percent recycled scrap automobile tires and gallon-size plastic containers.
"VAST Enterprises recycles a tremendous amount of old car tires and plastic containers out of landfills, and with our proprietary technology process we turn them into beautiful, durable, sustainable and affordable alternatives for landscape masonry," said Vander Woude. "For Earth Day 2009, it's noteworthy that last year VAST kept 1.2 million pounds of rubber and plastic from spending the next million years in landfills."
VAST Video:
"Blueprint for Green" is the television show about applying green design principles and using green building products in upscale, contemporary construction projects. The "Blueprint Green Reviews Deck Pavers" episode presents VAST Composite Deck Pavers and highlights a residential application.
VAST Enterprises, LLC:
VAST applies its patented technology to transform recycled materials into a new resource for green building: composite masonry. VAST composite products -- including landscape pavers, deck pavers and brick wall fascia -- offer an engineered alternative to both segmented concrete and clay. VAST meets the most demanding requirements for aesthetics, durability, sustainability and installation efficiency. Available in standard and permeable versions for stormwater management, VAST pavers contribute to more LEED® credits than any other paver. Today, every 5,000-square foot landscape application keeps 2,500 scrap automobile tires and 75,000 gallon-size plastic containers out of U.S. landfills. Tomorrow? The Future is VAST. Learn more at vastpavers.com]. Then call (612) 234-8958.
LEED® (Leadership in Energy and Environmental Design) is registered trademark of the U.S. Green Building Council
###