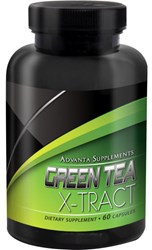 We are working to ensure we never run out again, but the customer response has been overwhelming!
Adel, IA (PRWEB) March 14, 2013
Advanta Supplements announced today that its 60-capsule bottles of "Green Tea Extract" are now back in stock after temporarily being sold due to popular demand, and can be purchased online from Amazon.com at http://www.amazon.com/Advanta-Supplements-Green-X-tract-Capsules/dp/B005GLJSHO
Advanta Supplements' Green Tea Extract, which provides 500mg of green tea and 16mg of naturally-occurring caffeine, is the same formulation recommended by Tim Ferris in his groundbreaking book "The 4-Hour Body." Green Tea Extract also contains 60mg of Vitamin C, which helps the body absorb the nutrients faster and more effectively.
"Since its release, our Green Tea Extract has proven to be extremely popular and very highly-rated," commented a spokesperson from Advanta Supplements. "And despite our ambitious sales projections, demand for the product has far outstripped supply. Clearly, more and more people prefer the convenience and simplicity of taking our green tea extract as a dietary supplement. Fortunately, we've been hard at work with our FDA-approved lab partners, and are pleased to announce that we've replenished the stock for customers across the country and worldwide."
Extracted from the plant "Camellia sinensis," green tea has been well documented in numerous clinical studies to help with a number of health conditions, including: stomach disorders, headaches, bone loss (osteoporosis), low blood pressure, chronic fatigue syndrome (CFS), kidney stones, skin damage, dental cavities, Crohn's disease, Parkinson's disease, diabetes, more. WebMD also notes that green tea can potentially help prevent certain kinds of cancers, including lung cancer, gastric cancer, colon cancer, solid tumor cancers and more. Plus, in addition to helping restore alertness, green tea is also a well-known aid in achieving weight loss, since its naturally-occurring caffeine stimulates fat oxidation, which increases metabolic rate – but without increasing heart rate.
60-capsule bottles of Advanta Supplements' Green Tea Extract are currently available for $35.00, which is 30% off the list price of $49.99. Plus, customers can take advantage of Amazon.com's "Super Saver" option and pay no shipping fees.
About Advanta Supplements
Located in the heart of Iowa, Advanta Supplements partners with FDA-approved labs to develop, test, and manufacture a line of quality vitamins and nutritional supplements. All Advanta products are made in the U.S. and backed by a complete customer satisfaction guarantee. Learn more at http://www.advantasupplements.com.