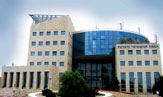 Israel's talent pool is a critical ingredient to GreenPoint's success. The move to Lod will allow us to access a greater talent pool throughout Israel
Lod, Israel (PRWEB) October 24, 2011
GreenPoint Global announced the successful relocation of its Israel office to Lod's industrial complex. The new office will provide a better environment for GreenPoint Israeli customers and employees.
"The relocation and expansion are attributed to our entire team that is working hard to build GreenPoint Israel as a leader in providing high-end offshore professional services for clients worldwide," says Richard Tabachnik, Director of Israel Operations. "Additionally, the move accommodates recent growth and improves visibility to the Tel Aviv workforce."
"Israel's talent pool is a critical ingredient to GreenPoint's success. The move to Lod will allow us to access a greater talent pool throughout Israel," said Jacklyn Karceski, GreenPoint Global's General Manager.
The relocation by GreenPoint Israel moves the office from nearby Jerusalem, where the company reached maximum capacity. GreenPoint's address at the new facility is: The Geophysical Institute, 6 HaBaal Shem Tov St. 3rd floor, Global Park, Geophysical Institute Bldg. Northern Industrial Area Lod, Israel, 71289. The New York-based company has offices in Manhattan, Lod, and Navi Mumbai with more than 500 employees worldwide.
GreenPoint Israel holds regular open houses to source new consultants and employees. The next open house will be in Novenber. Please contact Dorothy Tsemach hr-israel(at)greenpointglobal(dot)com if you would like to attend.
To access additional information and resources, visit the News and Events page at http://www.greenpointglobal.com.
About GreenPoint
GreenPoint specializes in providing value-added professional services to a broad base of Fortune 1000 and other companies worldwide. Through utilization of diverse global resources, GreenPoint mitigates the traditional pitfalls of outsourcing. Across the diverse industries it serves, GreenPoint provides business process services through the use of technology to optimize cost while reliably enhancing service delivery. For more than a decade, GreenPoint has established a prominent outsourcing platform with an impeccable record for quality and timeliness.
GreenPoint is an ISO 9001:2000 and BS-7799 pending company.
###