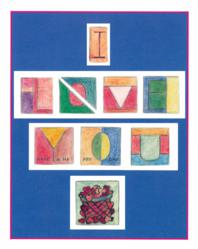 "Joe was loved and respected both as an artist and teacher," says Betty Wetherbee.
Southlake, Texas (PRWEB) July 25, 2011
Each of us hopes to leave a lasting impression on family, friends and others we cross paths with in life. This is certainly the case for Joe Wetherbee, affectionately dubbed Uncle Toadee by his niece and nephew, who inspired many students during his 33 years as an art teacher at Wheat Ridge High School in Colorado. As a tribute to Wetherbee's contributions to his students, as well as to his own artistic talent, an e-commerce website has been launched showcasing his "doodles," many of which are available for purchase as unique greeting cards.
Although he never intended them for public viewing or purchase, Wetherbee's drawings filled countless sketchbooks and are a reflection of his personality – gentility, creativity, originality, warmth and humor. After his death in 2009, his wife of 65 years, Betty, wanted to share his artwork with others and transformed some of them into fun and engaging cards. Available in sets of ten with matching envelopes, the 50 greeting cards demonstrate his thoughtful use of the basic elements of art to communicate and express himself.
"Joe was loved and respected both as an artist and teacher," says Betty Wetherbee. "This website is intended to show all aspects of Joe's life, work and passion for art. I think anyone who knew Joe will see his unique personality and creativeness in these greeting cards."
Designed and maintained by i5 web works, the website includes sections about Wetherbee's personal life and professional training, along with his teaching career that includes numerous quotes from former students. The Doodles section explains his artistic approach and teaching philosophy, along with samples of his work. A dedicated Shopping section currently offers 50 greeting cards for purchase.
Please visit http://www.uncletoadeesdoodles.com to learn about Joe Wetherbee and discover his amazing artwork. If you have a question, contact us via the online form.
About i5 web works
i5 web works provides []search engine optimization, Internet marketing, domain registration, and comprehensive site management programs that include website design, maintenance and hosting. The company serves clients in a broad range of industries from its headquarters in the Dallas-Fort Worth area. i5 web works understands the application of Internet marketing services, pay per click advertising, search engine optimization, and social media for both business-to-business and business-to-consumer purposes. Creating an Internet presence requires an in-depth understanding of natural search engine optimization techniques and supporting Internet marketing programs. Celebrating its 10th anniversary in 2011, i5 web works has the experience and ability to execute these programs. Co-owners Michael Burns and Carita Weaver take their tagline to heart: "Be Found!" See them at http://www.i5ww.com.
# # #