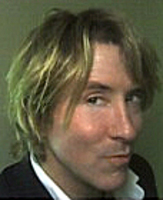 an almost spiritual level of experience.
Santa Ana, CA (PRWEB) August 24, 2007
Gregory Markel, http://www.myspace.com/gregorymarkelrocks , known as "The Voice" for his distinct and emotive 4 octave range to perform altered state's Warner Bros. 1990's hit "Ghost Beside My Bed" with Paul McCartney guitar player Rusty Anderson at Rusty Anderson's O.C. Pavilion, (http://www.ocpavilion.com) solo performance, Friday, August 24th at 8pm.
Rusty and Gregory previously played together in "The Living Daylights" and will also be performing the Daylights song, "Modern History."
Gregory wishes it known that he dedicates this performance to Jennifer Kelly.
Gregory Markel's live shows are known as hit or miss events with the "hits" resulting in a profound connection with the audience as Music Connection magazine has written, "an almost spiritual level of experience."
Markel's soulful and explosive vocals have been compared by the press to some of the greatest singers of our time including Bono, Jeff Buckley and Robert Plant.
Principal writer of of the well known songs "Strong As I Am", a child's message to his parents, and "Ghost Beside My Bed", based on an actual event, Markel's music has been heard the world over via radio, television and DVD. "Strong As I Am" first charted within The BBC Top 20 and was then chosen personally by director Michael Mann for his cult classic "Manhunter," which starred CSI's William Person and was the "pre-sequel" to "Silence of the Lambs." The song's message of child/parent forgiveness and reconciliation strikes a universal chord in fans the world over and continues generating fans 20 years later via the film and many fan comments and blogs throughout the web.
While a member of Warner Bros. recording group, Altered State, his song "Ghost Beside My Bed," produced by Tony Berg, went #1 at Rock Radio in 1991 in many states in the U.S. and top 30 nationally. The song, with its Radiohead and Pink Floyd like properties and mixed by legendary mixer/producer Bob Clearmountain, (Paul McCartney, Bruce Springsteen and others), stood in profound contrast to the radio fare that year. Fellow Altered State member Guitarist Curtis Mathewson, who plays the David Gilmour like passionate solo in the song went on to co-produce the first hit record of the top 40 rock group, "Train."
Gregory Markel continues to record music, most recently in 2006 with Paul McCartney guitarist Rusty Anderson, guitarist/producer Christian Nesmith, drummer Chip Moreland and bassist Howard Ulyate.
Gregory Markel Websites:
http://www.myspace.com/gregorymarkelrocks
http://www.gregorymarkel.com
http://en.wikipedia.org/wiki/Gregory_Markel
About Rusty Anderson:
You've been listening to Rusty Anderson for years. And Undressing Underwater - his upcoming solo release - at last shines the spotlight on the guitarist/singer/songwriter career of a consummate musician, who continues to break ground while working with some of the best of his peers.
Anderson, who is feted for his guitar work on Paul McCartney's Driving Rain and lead guitarist for the former Beatles' touring band, has a musical background that spins through Oscar-nominated and Grammy-winning work.
If you haven't heard him playing on the most recent releases by The Wallflowers, Perry Farrell's solo album, Elton John or Sinead O'Connor, you've probably swayed to works such as Santana's The Game of Love, or bopped to the surf riff he wrote and played on Livin' La Vida Loca. But it was time for his own album - and Undressing Underwater is the powerful result.
About O.C. Pavilion:
http://www.ocpavilion.com
801 N. Main Street
Santa Ana, CA
714.550.0880
###