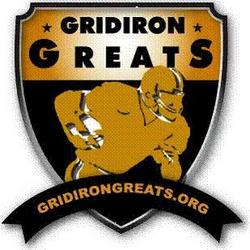 Gridiron Greats Superstar Online Fundraising Auction
Phoenix, AZ (PRWEB) January 30, 2008
The Gridiron Greats will hold a press conference with 60 NFL Legends on Thursday, January 31, 2008 at 8 a.m. at the Super Bowl XLII NFL Media Center (Room 106A) in Phoenix, AZ to kick off a fundraising initiative to help raise money for players who are in need.
This unprecedented initiative involves the largest group of players to date coming together for a grassroots humanitarian project to assist retired players in dire need. This is a landmark event, spanning many generations of players assembling together for a common goal. Players include:
Mike Ditka, Dick Butkus, Jerry Kramer, Gale Sayers, "Mean" Joe Greene, Michael Irvin, Dan Hampton. Fred Biletnikoff, Anthony Munoz, Jack Youngblood, Conrad Dobler, Steve Largent, Kyle Turley, Jack Youngblood, Eric Dickerson, Franco Harris, Thurman Thomas, Lem Barney, Harry Carson, Ted Hendricks, Len Dawson, Steve Largent, Daryl Johnston, Tony Siragusa, Andre Reed, John Stallworth and many more.
The group of players will discuss post-career issues facing retired NFL players, as well as their participation in a series of fundraising events. Also discussed will be details regarding the "Gridiron Greats Superstar Online Fundraising Auction" and Donation Drive.
Items which will be featured in the Gridiron Greats online fundraising auction (http://www.gridirongreats.org) will also be on display, including: Custom Gridiron Greats Harley Davidson signed by over 25 NFL Legends, a set of plays hand drawn by Vince Lombardi, which were donated by Lombardi Jr., and more.
Credentials: If you do not already hold an NFL issued Media Pass, a credential must be requested through the Gridiron Greats office.
On Site Contacts: Jennifer Smith (920) 819-1560 or Richard Stenard (920) 246-1030.
Please submit requests via email at gridirongreats24 @ aol.com or fax (920) 499-7135. Visit the web site for updates regarding this press event at http://www.gridirongreats.org
Contact: Jennifer Smith, Executive Director, GGAF
Phone: 920-819-1560 (c); 920-499-7133 (o)
Website: http://www.gridirongreats.org
###