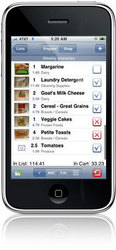 Miami, FL (PRWEB) April 16, 2009
Most people travel everywhere with their iPhones. It only makes sense, then, that applications would come along to the grocery store. How about a shopping list that allows you to share list information with other household members? Flixoft, the developers of Grocery Gadget, are the first to make this possible.
With the recent release of Grocery Gadget 1.6, you now have the option for syncing between your iPhone or iPod Touch, and an online grocery portal. The access is free at http://www.grocerygadgets.com. The portal allows you to manage a database of shopping list items. From the online database, build and manage multiple shopping lists, and easily sync lists with your iPhone or iPod Touch.
But the syncing capabilities don't stop there. Grocery Gadget's sync technology (similar to MobileMe sync technology) also allows you to sync lists across multiple iPhones, iPod Touches, and even desktop computers. Access the portal option on your iPhone or iPod Touch, and easily set up a group name and password. Relay this information to your household members so they can automatically sync their devices and desktops; it's that easy.
Imagine the days of your spouse or household member never picking up the wrong item at the grocery store ever again. With the most recent Grocery Gadget release, and the new portal, Flixoft has simplified the process of serious grocery shopping for everyone.
The Grocery Gadget has become one of the most sophisticated shopping list applications on the market today, and has quickly climbed the rankings within the iTunes productivity category. Compatible versions for other smart phone devices, and future strategies to integrate directly with other shopping services are currently under development.
Flixoft, Inc. is a U.S. based developer of smart phone applications specializing in Internet based integrated solutions. For additional information contact support @ flixoft.com.
###