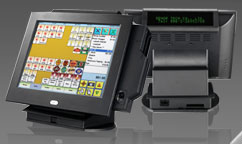 This partnership enables the delivery of real-time information to a grocer's fresh production areas and onto the sales floor, using ruggedized touch screen devices adapted for these environments
Toronto, Canada and Taipei, Taiwan (PRWEB) April 03, 2012
Invatron and SENOR TECH today announced that they have formed a global partnership to deliver value-added applications for the grocery industry on ruggedized devices. Under the terms of the alliance, Invatron will become a re-seller of SENOR TECH's technology-leading platform of touch screen devices, designed specifically for the high-reliability needs of retailers and harsh environments like the grocery production areas.
"Traditionally, computing systems have not been deployed into certain grocery departments, like meat and bakery, due to the harsh environment that they operate under", said Axel Doerwald, CEO of Invatron Systems Corporation. Moisture and particles can rapidly contaminate and degrade these devices. However, with powerful systems like ePLUM Scale Management and PeriScope Fresh Item Management, grocers are increasingly looking to empower these departments and go paperless.
This new hardware deployment option is fully protected from those tough environments, passing a minimum IP43 rating certification for dust proof and water resistance. Enclosed in protective casings with a touch screen interface, these devices are ideal for this sort of application, providing an intuitive user interface and protection from the elements. They can also be optionally equipped with print and scan capabilities, depending upon their intended use. An affordable ruggedized tablet device is also slated for release in the first half of 2012 that will enable mobile computing in the fresh departments and throughout the store.
In addition to running operational applications for the fresh department, these devices have further uses as in-store kiosks for shopping convenience. With a variety of different mounting and display options, they are ideal for bringing self-serve information to the fingertips of the store customer, enhancing their shopping experience.
Through this alliance, Invatron is enabling retail grocers to bring valuable and real-time information to their store operations and to their customers, supporting their paperless initiatives internally and building customer loyalty externally.
About Invatron
In business since 1988, Invatron offers software solutions to help retailers gain valuable insight into their fresh food operations, by providing centralized control of all product information and gathering critical in-store data on fresh food ordering and production trends. The software includes demand forecasting to optimize inventory, production planning and ordering of fresh food items, as well as centralized scale management. Invatron has the most widely installed suite of applications of its kind with well over 15,000 store deployments, and counts many of the largest and most respected chains among its customers including Safeway, Kroger, Ahold, Giant Eagle, H-E-B Grocery Co., Wegmans, A&P, Sobeys, Whole Foods and Loblaws. For more information, please visit: http://www.invatron.com.
About SENOR TECH
SENOR TECH has been a leading POS (Point-Of-Sale) solution provider since establishment in 1990. SENOR transformed the industry in 1999 when it launched the first all-in-one POS Terminal to the worldwide market, leading the trend away from traditional check-out machines. Especially designed for harsh environments, like bakery kitchens or vehicle factories, all of SENOR's POS Series products must pass the IP43 rating or IP66 rating certification for dust and water resistance.
SENOR understands the critical needs of systems reliability in hospitality, retail and even harsher industrial environments; therefore SENOR is always committed to providing POS systems with the best performance and to deliver a high level of customer service to our global partners and end users. For more information, please visit: http://www.senortech.com.