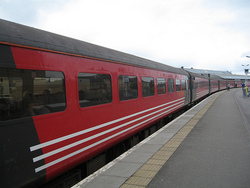 With shorter notice operations, a private charter train for large group travel is now even more viable, compared with fleets of coaches or aircraft.
Wiltshire, UK (PRWEB) August 7, 2009
Train Chartering is now offering train charters in the UK to clients requiring transport at short notice, challenging coach and air operators. The company arranges charter trains for corporate & individual clients and group travel organisers in England, Scotland and Wales, as well as in Europe, USA and elsewhere.
Train Chartering has not in the past accepted requests for travel on British railways of less than three weeks' notice. However it can now arrange private charter trains on some rail lines within just 5 working days.
The acceptance of late notice requests is the latest element in Train Chartering's charter train business model in the UK, which is increasingly attractive to group organisers, whether in agencies, associations or companies.
Train Chartering's Simon Pielow is pleased with this new facility, "With shorter notice operations, a private charter train for large group travel is now even more viable, compared with fleets of coaches or aircraft."
Private charter trains carry up to 460 passengers in First Class, 740 in Standard (2nd or Economy) Class, or varying numbers in mixed class trains. They travel between all stations on the British rail network, subject to planning.
Charter prices are cost effective, especially for larger groups. For instance, a round trip between London and Edinburgh, with an overnight at destination, costs from just £40 in Standard Class or £64 in First.
Where group size is not a consideration, and the client is seeking a memorable venue (e.g. a product launch or a private party), our First Class Pullman trains fit their requirements.
Train Chartering is the pioneer of a coordinated approach to sourcing, theming and crewing special trains and carriages for a variety of corporate and leisure applications. This full service approach is enhanced by comprehensive guest management, including ground handling and transfer services, which are applied to all train charters or private carriage / rail car hire.
Our project directors are great communicators, both to clients and suppliers. They liaise closely with station staff and train crew. Train Chartering also organises meet and greet facilities at stations as well as catering, branding, onboard meeting & entertainment options.
ENDS
Further Information:
Train Chartering, Simon Pielow, +44-0-1249 890 176, infoATtrainchartering.com
Notes for editors
1. Photos from Flickr
2. Train Chartering supplies private charter trains and carriages from any station to any station, to a tailored timetable, for groups of any size up to 740 in private trains and more than 3,000 per day.
3. Typically, larger aircraft with more than 250 seats are not available for UK domestic air charters.
4. Private trains and carriages are unusual venues for meetings, seminars, blue sky thinking and are perfect for incentive travel, delegate / exhibitor travel for conferences and exhibitions, hospitality and event travel.
5. Train Chartering provides full guest and project management, which includes transfers from anywhere to the station, meet 'n greet and guiding through the station to the train, onboard catering, entertainment, branding and theming as well as specialised carriages for meetings and presentations.
# # #