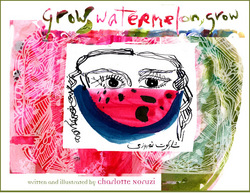 There is freedom in publishing your own book
(PRWEB) November 19, 2007
New York, New York, November 19, 2007 -- A "sweet" children's book debuts. We all know how sweet watermelon tastes on a hot summer day, with the juices running down our arms...Well, it maybe November, but the "watermelon book" season has just begun. Sink your teeth into this story, written and illustrated by Charlotte Noruzi.
"Grow, Watermelon, Grow" is a spirited and humorous miniature memoir for children but it is also for the child in all of us. It is a journey of a little girl and the planting of her treasured watermelon seeds. But the real cultivation is that of belief, confidence, and trust in one's self-persevering -- and the magical reward of that perseverance. A distinct personality sets the book apart. The cover art immediately draws you in with its directness and unusual quality. The curious face, half-hidden by watermelon looks out at the world and encourages it to look back. As one turns the pages, one sees richly-colored end pages, done with real watermelon rind and mono prints from actual watermelon slices.
The story unfolds through a first-person narrative, the author's voice, as direct and honest as the illustrations: filled with fantasy, culture, humor and sensitivity. In short, this is a highly individual interweaving of words and art that has the capability of touching people of all ages and backgrounds.
The book is available online at http://www.grow-watermelon-grow.com as well as bookstores in Brooklyn, New York, where the author gives readings. "Grow, Watermelon, Grow" is a 40-page, hard-cover book measuring 8 x 10 inches with more than 40 full-color and black & white illustrations.
It has already gotten great reviews from retailers and consumers, mainly mothers of small children. 'This is a fresh and needed approach visually and narratively to a story book" is the word on the street.
About the author:
Charlotte was born in Tehran in 1970. After only seven years, her family uprooted and replanted themselves in the United States, mainly in a small town called Upper Saddle River, New Jersey. This is where the story takes place. Being of Persian origin, she decided to reconnect to her roots by taking her book cross-country to Orange County, California, where it successfully sold in the "Mehregan" Persian Autumn Festival, last month.
Visit the author at the 20th Annual Small Press Book Fair in New York, December 1 and 2. She will be promoting and selling her book on the 3rd floor.
Charlotte also plans on traveling the country promoting her book next year at various watermelon festivals nationwide.
"There is freedom in publishing your own book," Charlotte explains. "It is yours from beginning to end. You are in total control. To retain the integrity of the look and story, I published it myself-its doable."
She is working on giving a seminar on her self-publishing experience, and will begin further promotion of the book through the sale of watermelon t-shirts, book marks and buttons.
###