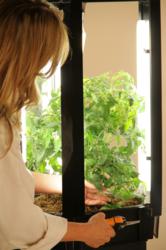 Phototrons are now seen as less of a luxury item, and more of a compulsory item, like a stove or refrigerator, in contemporary kitchens.
Los Angeles, CA (PRWEB) February 18, 2012
Phototron Holdings, Inc. (OTCBB: PHOT) (OTCQB: PHOT), the Los Angeles hydroponic grow box company that is leading the indoor mini-greenhouse revolution, is seeing rapid growth in the "grow your own" market. For those still on the fence about indoor growing, Phototron offers five important points to consider.
#1 Grow Year Round
Being able to control the climate is one of the greatest benefits of an indoor growing system. In addition to providing shelter from inclement weather, snow, frost, humidity and heat waves, gardeners can control the amount of daylight hours. This enables gardeners to grow ripe tomatoes in just 45 days from germination.
#2 Grow in Small Areas
Would-be gardeners with limited space, like apartments and condos, can still enjoy fresh homegrown fruits and vegetables by gardening indoors. All of the Phototron grow cabinets are only 21 inches wide and deep, so they take up less than 1 square foot of indoor floor space.
#3 Protected from Invaders
There is nothing worse to gardeners than going out to harvest their crops and finding that a gopher, rabbit, birds or worms literally ate their lunch. Or maybe their dog or children ran over or accidentally dug up the garden. Indoor growing in a protected grow cabinet prevents these types of situations.
#4 Guaranteed Natural
Store-bought tomatoes are often picked green and chemically induced to ripen, leaving them hard and tasteless. Personal indoor gardens eliminate the health risks associated with ripening chemicals and other contaminates like pesticides, E. coli and salmonella that are often found in store-bought produce. Indoor gardeners get the 100% of the available nutritional value because their fruits and veggies go directly from the plants to their plates.
#5 Water Efficiency
Farming consumes 70% of the water consumed on the planet, and most of it is wasted. In a Phototron indoor hydroponic system, water is conserved because it only uses 10% of the water typically used in an outdoor garden.
"For the past 20 years, we have enabled people to grow their own plants using our state-of-the-art indoor controlled-environment hydroponic grow systems, nutrients and supplies," said Craig Ellins, Phototron's CEO. "Phototrons are now seen as less of a luxury item, and more of a compulsory item, like a stove or refrigerator, in contemporary kitchens."
For more information about indoor growing, or to purchase or inquire about carrying Phototron products, call (800) 651-2837 or go to http://www.phototron.com.
About Phototron Holdings, Inc.
Phototron Holdings, Inc. (OTCBB: PHOT) (OTCQB: PHOT) designs and manufactures cutting-edge indoor mini-greenhouses capable of year-round growth of herbs, vegetables, flowers, fruits and medicines, better, stronger and faster than traditional farming methods.
The Phototron Hydroponic Indoor Grow System, commonly called grow boxes, is built upon decades of research on the optimal temperature, light, water and nutrient needs of plants. The Phototron System uses proprietary lighting that mimics the sun's rays to grow nutrient-rich, pesticide-free, eco-friendly crops faster and in more bountiful quantities than those of traditional gardening methods, resulting in fruits and vegetables of superior taste and quality.
Phototron systems and accessories are available for purchase from the Company's website. Phototron supports the sale and use of its products to the home medical marijuana market where compliant with applicable laws. Phototron also supplies a full range of parts, accessories and advanced nutrients to more than 50,000 customers.
For comprehensive investor relations material, including fact sheets, presentations, conference calls and video, please follow go to http://www.phototron.com.
Forward-Looking Statements
Except for historical information contained herein, the statements in this release are forward-looking and made pursuant to the safe harbor provisions of the Private Securities Litigation Reform Act of 1995. Forward-looking statements are inherently unreliable and actual results may differ materially.
Examples of forward-looking statements in this news release include statements regarding new growth initiatives and accelerated growth, successfully monetizing MLM business model, marketing and distribution plans, development activities and anticipated operating results.
Factors which could cause actual results to differ materially from these forward-looking statements include such factors as the Company's ability to accomplish its business initiatives, significant fluctuations in marketing expenses and ability to achieve and expand significant levels of revenues, or recognize net income, from the sale of its products and services, as well as the introduction of competing products, or management's ability to attract and maintain qualified personnel necessary for the development and commercialization of its planned products, and other information that may be detailed from time to time in the Company's filings with the United States Securities and Exchange Commission. The Company undertakes no obligation to publicly update or revise any forward-looking statements, whether as a result of new information, future events or otherwise.
###