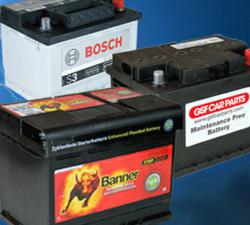 The best batteries on the market are available for 20% less when customers use promo code BAT202012.
(PRWEB UK) 30 November 2012
GSF Car Parts is offering 20% off all car batteries throughout the festive season, when customers quote the promo code 'BAT202012'.
They might not make ideal stocking fillers, but car batteries are essential to every vehicle. On winter mornings, cold weather can render old car batteries useless; and to avoid starting trouble throughout the cold snap, a new, high quality battery from a reliable manufacturer is ideal.
Thanks to the latest promotion from GSF, one of the UK's leading part stores, it could not be simpler or more affordable to purchase car batteries from the like of Banner and Bosch. There is a wide variety of batteries available and customers will find something for all major vehicle models.
The expansive GSF Car Parts online store can even help road users to find the right battery for their needs. A brand new site design for 2012 invites customers to enter their registration number, when they arrive at the site, and confirm the make and model of their car. The site then directs them to the batteries which are right for their car.
Modern cars rely upon a number of complex electrical devices from convenient internal devices to essential exterior lights. But perhaps the most important of the all is the spark plug, without which the car simply would not start.
But this winter, drivers needn't let a spark plug that won't spark prevent them from visiting their loved ones. The best batteries on the market are available for 20% less when customers use promo code BAT202012.
GSF Car Parts is the only truly independent national Motor Factor remaining in the UK. Whilst the brand is a renowned trade specialist, retail customers receive an equally warm welcome at more than 70 stores throughout the UK, or an all new online shop.
A wide range of spare parts and accessories are available, and customers can also take advantage of expert technical advice.
For more information, or to take advantage of the 20% Off Car Batteries offer today, pay a visit to the GSF Car Parts online store.