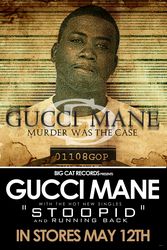 You Can't Out Hustle Big Cat Records
Atlanta, GA (PRWEB) May 4, 2009
Widely known and respected indie recording label, Big Cat Records puts in its bid to seize control of '09 with its May 12th release of Gucci Mane's newest album aptly entitled, "Murder Was the Case."
Armed to the teeth with hot producers, amazing singers, chart topping rappers, and an undeniable success formula, Big Cat Records is now poised to put the death squeeze on 2009 with "Murder Was the Case", Gucci's first all new material LP in two years. The latest project contains 14 blazing tracks and promises to be his best album yet. "Gucci Mane is at the height of his career," proclaims LP Co-Executive Producer and Big Cat Records President Melvin "Mel Man" Breeden. "We are pleased to be instrumental in bringing his best work to date to his loyal fans!"
Gucci Mane's hit single "Stoopid" has already swept the airwaves with over 700 spins and #70 debut on Billboard's "Rap Singles". Despite Gucci's untimely incarceration, Big Cat kept it moving by launching an animated music video for "Stoopid" in response to the overwhelming demand/success of the single. According to Celebrity Publicist Trea Davenport (treaday.com), "The anthem soaked CD also contains head-banging tracks like, "Runnin-Back Gittin Fat", which could potentially equal "Stoopid" in fame. With sizzling hot producers like; Zaytoven, DJ Speedy, Melman, and the Produsirz, Murder Was the Case will keep trunks rattling".
Even with Gucci Mane's legal woes and controversial past statements made against Big Cat Records, the label continues to put the business before the beef and put out hit after hit after. Trap House, Hard to Kill, Trap-A-Thon, and Hood Classics have all been released on Big Cat Records, and have all been extremely successful. Thanks to the unstoppable hustle of Big Cat Records and the creativity of the urban storyteller himself, Gucci Mane has become a household name, with his catchy lyrics, addictive chants and soaring record sales.
For more information on Murder Was the Case, or to request a CD for review or to submit interview requests for Big Cat Brass Marlon Rowe or Melvin "Mel Man" Breeden, contact the official Big Cat Publicity Team: Trea Davenport of Trea Day Management & Publicity at 678.523.3088 or Trea Day Website or check out Big Cat Records Website & Big Cat Records MySpace.
"You Can't Out Hustle Big Cat Records"
###