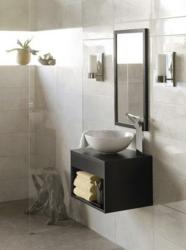 Open shelf bathroom vanities keep the essentials visible, which can help make guests more comfortable in an unfamiliar bathroom.
(PRWEB) June 11, 2013
HomeThangs.com – the Online Home Improvement Store has made their goal to deliver the right product to the consumer. With that in mind, shopping and home design tips, as well as special product selections are being introduced.
For a primary or master bathroom, type and amount of storage is often a main concern in terms of choosing a new bathroom vanity. Even (or especially) in small bathrooms, efficiency and functionality are extremely important. But the priorities and considerations for half bathrooms and guest bathrooms are a little different. There's less that needs to be stored, and space is often at a premium. HomeThangs.com has introduced a guide to guest bathroom vanities that are attractive and versatile enough for company, but small enough to suit the space.
In a half bath, powder room, or guest bathroom, there's no need for lots of cabinet space to store hair driers, electric razors, or shampoo bottles. Likely, the only things that will need to be stored are a bar of soap, spare towels, and a few extra rolls of TP. Minimalist bathroom vanities or even wall mounted sinks are an ideal choice. With storage features like built in towel bars and storage shelves, it's simple to artistically arrange the necessities in a whole lot less space than a traditional bathroom vanity.
For an extremely small bathroom, something even smaller and more utilitarian might be in order. Sink vanities inspired by those used on small ships and RVs are available for either extremely small or extremely efficient bathroom spaces. At around 16 inches wide and a mere 10 inches deep, these ultra compact vanities offer all the utility a very small bathroom needs while leaving space to add much needed storage on the side.
In some bathrooms, having a vanity that's shallow is even more important than having one that's narrow. Shallow vanities tend to be about half as deep as an average cabinet style vanity, meaning they physically takes up much less space (even if they're a little wider) while also offering storage that's more easily accessible. Granted, there isn't counter space for much more than a bar or bottle of soap, but the easy-access cabinet and drawer space more than makes up for it.
Bathroom vanities with uncovered storage, especially spa-inspired storage that can be used to store rolled towels, are great for a guest bathroom that will frequently service overnight guests. Some guests can be a bit squeamish about digging through a larger bathroom cabinet, and having the essentials – towels and bath tissue – where they're easily visible is a great way to make them feel more comfortable.
This same idea works well in a smaller bathroom as well, stripping away a large cabinet and drawers and replacing them with a single open shelf beneath the sink. For a guest bathroom, this says there's nothing off limits. In a powder room, it offers just enough storage space for the basics while freeing up quite a bit of floor space, which can make a very small half bath feel a little less crowded.
If open shelves leave something wanting in terms of private storage for guests, bathroom vanities made with a single large drawer offer a nice alternative. Most traditional cabinet style bathroom vanities waste the space immediately below the sink because it's occupied by both the sink and the plumbing for the faucet. Vanities that have above-counter sinks and faucets with streamlined plumbing offer a large, U-shaped drawer that's sectioned off on the inside and ideal for storing small items, like spare toothbrushes or bars of soap, allowing guests to keep their intimate items private.
To see more guest bathroom vanities, read the full article here.
HomeThangs.com is not only a home improvement superstore, it also provides expert design tips and a comprehensive shopping guide, taking the ideas from professional interior designers, and offering tips to the consumers on how to pick the products to best suit their needs.