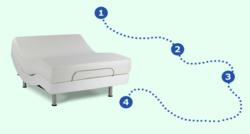 Miami, FL (PRWEB) March 28, 2013
The search for better sleep is increasingly leading people to consider adjustable beds, a unique type of mattress foundation that allows users to adjust the angle of their head and legs. However, with so many brands and models online, knowing what to look for may not be so clear.
Bed blog BestMattress-Brand.org recently developed a concise guide for this purpose, called "How to Shop for an Adjustable Bed." Styled as an educational introduction for first time shoppers, the guide includes a description of features and options as well as a crash course in comparison shopping.
Because the bevy of features is where most prospective shoppers tend to get lost, the article spends time addressing each of the most popular aspects and what they mean. From "wall hugger" to zero gravity to motor types, readers can find a brief and unbiased description to see which of the features are of interest to them.
The guide then looks into other important factors shoppers should consider like size and warranties. It is mentioned that adjustable sizes can differ from conventional mattress sizes, and the split king adjustable beds may offer the best option for couples with different ideas of comfort. Best Mattress Brand reminds readers to check for the full coverage period of warranties and to learn what is excluded. The importance of reading consumer reviews and choosing an optimal mattress are also addressed.
After the informational lesson, the guide recommends a simple method for effective comparison shopping. This involves making a list of "must-have" features and a budget, then comparing prospective adjustable beds via a spreadsheet or chart. The blog touts this as a simple way to narrow the field and choose a bed that will prove satisfactory.
To demonstrate, the article provides sample criteria (queen size, massage, battery backup, wall hugger, and under $1500) and compares four mid-range models from leading retailers. They show how four bases that look somewhat similar actually vary significantly in price, features, and owner reviews. The only model that meets all of the sample criteria is the Astrabeds ErgoStar Evolution adjustable base, which had the highest average consumer reviews as well.
For those just looking into adjustable beds or stuck in the research phase, this guide offers helpful tips and information that will likely prove useful. It reminds shoppers to take control of the purchasing process by considering their actual goals and priorities rather than just being sold to or buying based on brand name. Interested readers can also find other in-depth adjustable bed and mattress resources on the website
BestMattress-Brand.org is a mattress research blog designed to provide information to mattress shoppers. With a mission to make bed shopping easier, editors provide unbiased assessments of manufacturer claims and customer satisfaction. The blog also features industry news and brand reviews based on first and third party research, and offers weekly newsletters for subscribers.